With SanDisk's acquisition of Fusion-io, the SSD market continues on a rapid pace of consolidation that doesn't leave much room for stand-alone vendors.
SanDisk's recent acquisition of Fusion-io is just the latest in a continuing cycle of consolidation in the SSD market. A few years ago, vendors with manufacturing expertise from the DIMM market such as OCZ or Smart Storage Systems could package flash from Micron or Toshiba with a FlashSoft or Marvell controller and make a buck selling those SSDs. Now, at least in the enterprise/data center market, the big boys are making life difficult for stand-alone SSD vendors, even ones with a competitive product like Fusion-io.
The biggest driver in the consolidation is vertical integration. As you would assume, much of the cost of an SSD is the flash memory it contains. When the SSD market was developing, the flash foundry owners were content to sell their chips to whoever had the money to buy them and package them up into SSDs. After all, the vast majority of their flash went not into SSDs, but into consumer electronics products, from microSD cards and thumb drives to smartphones and tablets.
While consumer electronics still take most of the flash production, the higher profit margins in the enterprise SSD market have been attractive to the flash producers, and we've seen Toshiba buy OCZ and now SanDisk buy Fusion-io. Stand-alone SSD vendors in the enterprise SSD space now have to compete with SSDs from vendors that have the cost, and just as important, technology advantage of making their own flash. Those vendors include Micron, SK Hynix, Samsung, Intel (which owns half of one of Micron's fab lines), Toshiba (which sells both under its own name and through its OCZ subsidiary) and of course SanDisk, which owns fab lines through a joint venture with Toshiba.
In fact, I toured SanDisk's NAND lab during my Storage Field Day visit, where it became clear to me that flash vendors also have the advantage of being able to cherry-pick wafers and chips for their SSDs before selling the dregs that still meet the parts spec to commodity SSD vendors. They can also tune their SSD controllers to use just one model flash chip, which would be a problem for a stand-alone SSD vendor if supply of that one part became constrained, perhaps because the flash vendor's own SSDs were demanding more.
Figure 1: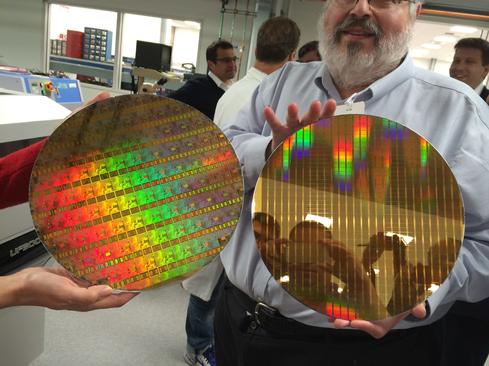 NAND flash wafers. Photo from Storage Field Day 5 tour at SanDisk.
When the news of the SanDisk Fusion-io deal broke last month, some of my fellow pundits wondered why a systems provider like EMC or HP didn't buy Fusion-io. That's like asking why EMC didn't buy Maxtor or Fujitsu's hard drive operations. The answer of course is that SSDs, like HDDs, are components and leaving development to specialized vendors lets the deep R&D of things like flash controllers be amortized across a much larger number of devices. More importantly, buying SSDs allows system vendors to bring products using SSDs to market much faster.
It appears to me that there are two classes of vendors that have a significant advantage in the SSD market: the flash providers, and the remaining hard disk vendors, Seagate and Western Digital. Both hard disk vendors have been investing in flash and SSD technologies; Seagate recently bought LSI's flash division, including the SandForce controller business and the No. 2 selling PCIe SSD, and WD bought STEC, Virident, VeloBit, and FlashSoft.
Fusion-io brought SanDisk market-leading PCIe flash cards, but also entree into the web-scale world, where Facebook and Apple have accounted for up to half of Fusion-io's sales. Web-scale data center operators, from web 2.0 operators such as Google and Facebook to cloud/hosting providers like AWS and Rackspace, are consuming a rapidly growing fraction of the world's IT hardware. In comparison, enterprise customers rely on OEMs to package components like disk drives and SSDs into more manageable units like SAN arrays.
Enterprise IT has long assumed that in the long run it's cheaper to pay $100,000 more for a storage array than to staff up with the skills needed to roll their own storage and live without the hand holding the OEMs provide. The web-scale guys are so big that they can amortize the cost of a few PhDs to design and manage their storage across so many petabytes that it's cheaper for them to buy disk drives and SSDs directly.
By buying Fusion-io, SanDisk gains a sales force that knows how to sell to those customers. That sales force can now sell SAS and SATA SSDs as well as PCIe flash cards to those accounts.
From a pure business point of view, we can only view the sale as an acceptance by Fusion-io's board that the company just couldn't return to the heady days of 2011, when it went public with a $19 share price and $1.48 billion dollar valuation. While the $1.1 billion valuation is a 21% premium over the current stock price, it still represents a significant haircut compared to the IPO price.
One open question is what happens to Fusion-io's systems-level products: ION, the software that turns a server into an all-flash array and ioControl, the hybrid system with QoS from Fusion-io's NexGen acquisition. SanDisk could decide to keep them, or just as likely decide that it doesn't want to compete with its OEM customers and exit the systems business.
It's clear that the flash foundries, and to a lesser extent Seagate and WD, have a growing advantage in the SSD market. I wouldn't want to be an SSD assembler today.
We welcome your comments on this topic on our social media channels, or
[contact us directly]
with questions about the site.