Maintaining connectivity is critical for distributed enterprises. Emerging technologies such as LTE offer alternatives for avoiding downtime.
For distributed enterprises such as retail locations, banks, restaurants, kiosks, government offices, distribution centers, or branch offices, the consequences of losing connectivity with headquarters, network operations, and secure payment processors can be severe. Lost revenue or branch office productivity are financial risks they can't afford. As a result, it's imperative to ensure network connections at distributed enterprises have adequate backup across all locations.
One option for doing this is to run two different wire lines, such as cable and DSL, with the idea that, if one line fails, the other will act as a failover solution. That system might sometimes operate as designed, but real-world scenarios have demonstrated there are some inherent risks involved.
For example, different wired connections at the last mile are still commonly run through the same conduit. When that's the case and an event physically damages the conduit, it typically takes out both connections, leaving the business with an unacceptable amount of downtime until repairs are made.
Another model for ensuring connectivity has been to insert a wireless USB in the available router port. Though this approach does offer some level of failover capability, there can be connectivity issues or poor connection speeds due to an IT closet that is in poor wireless coverage or has RF noise.
These options may still be viable for certain deployments, but IT managers need to consider leveraging emerging technologies like LTE and integrated wireless out-of-band management (OOBM) and all the cost-of-ownership factors to determine how best to maintain business continuity today and for the future.
Instant failover
The expanding availability of 4G LTE service offers an ideal opportunity for a quick and efficient failover solution when a wired connection goes down. Currently, peak LTE download speeds of 100 Mbit/s and upload speeds of 60 Mbit/s are offered in LTE failover products, allowing enterprises to keep their branch locations up and running smoothly, even when connected on wireless backup.
By deploying a 4G LTE gateway, IT managers can address the unique characteristics of distributed enterprises like retail locations, which are typically engaged in online customer transactions, require real-time access to enterprise applications, and generate revenue "in the moment."
Figure 1: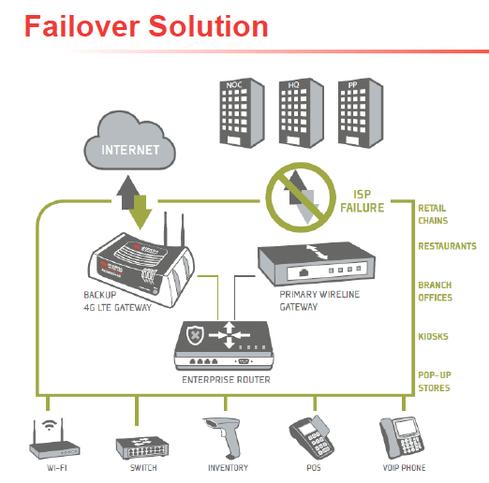 Take the example of Money Mart, a leading provider of affordable alternative financial services, with nearly 1,500 retail locations across North America and Europe. Concerned with the high costs of downtime, Money Mart embarked on a large-scale project to install backup circuits at all its retail locations using DSL as a primary connection and a LTE gateway for the backup connection.
"For Money Mart, having a backup system to process transactions is absolutely essential, because the cost of downtime is simply too high," said Pete Wilson, telecom and network administrator for Money Mart. "In testing, our 4G LTE failover solution rolled over to wireless and offered the stability we needed to seamlessly maintain operations."
Out-of-band management
Enterprise routers are typically very reliable, but in most deployments they are a single point of failure, and they may require a firmware update or sometimes just a reboot. A 4G wireless gateway with Reverse Telnet can allow remote network administrators to log in to the enterprise router console port to perform configuration updates or reset commands.
Once the initial problems on the enterprise router have been resolved via OOBM, network administrators can perform in-band management of other network connected devices. Of course, there are wireless OOBM add-on products available today, but having an integrated capability in a single form factor offers monthly telecom cost savings and a simplified installation and maintenance path, avoiding the complexities of getting standalone units "talking" to the NOC.
Figure 2: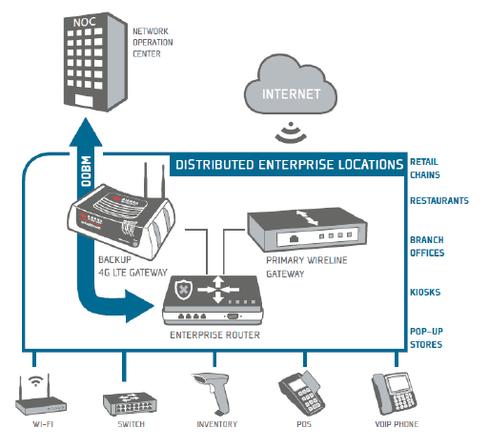 For distributed enterprises, having a wireless OOBM connection capability represents a substantial cost saving, because in most scenarios, network issues can be dealt with remotely, preventing a costly on-site visit by a technician.
Today, most individuals are likely to become annoyed when they lose Internet access, but for distributed enterprises such as retailers, the consequences are more substantial. The financial impact of losing connectivity is far too great, so implementing a wireless backup system -- one specifically tailored to mitigate financial risk -- should be a critical consideration.
We welcome your comments on this topic on our social media channels, or
[contact us directly]
with questions about the site.