Lync does much more than instant messaging. Check out these tips and tricks for getting the most from this communication and collaboration tool.
"last modified" details. To view text modifications, point at the text, then hold the mouse over the solid rectangle that appears about the text.
Whiteboard will also recognize gestures if you open the feature using a touch-friendly device such as a tablet or presentation screen, says Stark.
4. Preview video.
If you plan to hold or participate in a video meeting, it's a good idea to preview how your video appears to check on variables such as lighting, framing, and your appearance, Stark says. "You want to make sure that you look appropriate, and video preview will show you exactly what others will see."
To preview your video, hover over the Video icon, but don't click it. A window will pop up that shows you exactly how you appear to others.
Figure 2: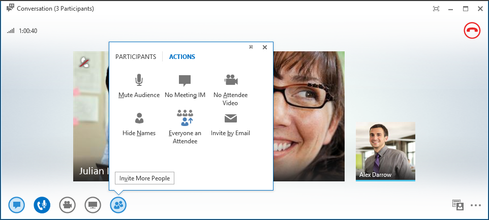 5. Mute meeting participants.
Meetings with many attendees can be distracting if participants haven't muted their phones. Luckily, Lync lets you mute either individual attendees or everyone on the call or in the meeting. To manage audio for individuals, select the microphone icon on top of the participant's picture or video. To mute all participants, click the People icon, select the Actions tab, then Mute Audience.
6. Add your picture to Lync.
To add or update your photo, click your picture in the main Lync window. You can default to your corporate picture, if there is one, or upload a photo from a Web address. Note that this photo will also appear in other Office programs you might use, such as Outlook.
7. Add an external contact.
"One of the most underused features in Lync is the federation piece," Stark says. "It's probably the most transformative feature -- to be able to have meetings with a diverse group of partners and collaborate with people outside your organization."
To add contacts from outside of your company, they must be federated, meaning their companies must allow identification and authorization outside their own organizations. To search for an external Lync user, type her email address into the search bar above your contact list. If she's federated, you'll be able to access her contact card and add her; if not, it will say "presence unknown."
8. Block messages from external contacts.
If you don't want to receive messages from users outside your company, click Options on the Actions menu and then click Permissions. Select the checkbox next to "Block messages from federated contacts that are not already in your Permissions list."
9. Tag for status change alerts.
If you need to message a contact but he's busy or in a meeting, right-click his name and select "Tag for Status Change Alerts." Lync will alert you when your contact's status changes to Available so you can get in touch.
10. Use skill search to find an expert.
If you're looking for a colleague with a particular expertise, you can search for him or her using Lync's skills option. To do this, begin typing keywords into the search box. Lync will return a list of colleagues whose skills from their SharePoint profiles match your request.
Trying to meet today's business technology needs with yesterday's IT organizational structure is like driving a Model T at the Indy 500. Time for a reset. Read our Transformative CIOs Organize For Success report today (free registration required).
Pages
We welcome your comments on this topic on our social media channels, or
[contact us directly]
with questions about the site.