Cisco revamps its videoconferencing lineup with a Google partnership, new products, and lower prices, the company announces at the Enterprise Connect conference.
Cisco WebEx and Cisco Unified Communications are now available via Google Chromebook browsers.
The arrangement is part of Cisco's ongoing strategy to simplify collaboration among users, making corporate videoconferencing as easy to use as a commercial or personal app, Rowan Trollope, senior vice president and general manager of the Collaboration Technology Group at Cisco, said in a keynote presentation at Enterprise Connect in Orlando, Fla., on Tuesday. The vendor also has cut prices an average of 45% across its product line.
"Users want to have great technology and a consistent experience across platforms," Trollope said. "The industry has not lacked low-cost solutions. You can get lots of low-cost solutions on the market today, but you have to make tradeoffs. It's a shameful fact that only 7% of meeting rooms in the world have video equipment in them, have collaboration equipment in them. That means 93% of them are only able to connect to other people with voice."
Rajen Sheth, director of product management for Chrome for Business and Education at Google, said that, since more than 5 million companies use Google apps and Chromebooks accounted for about 21% of the commercial US laptop market in 2013, Google and Cisco expect their collaboration to encourage more business users to tap into videoconferencing in order to communicate. The two executives conducted a proof-of-concept demonstration of Chrome running WebEx during Trollope's keynote address at Enterprise Connect, an event conducted by UBM Tech, InformationWeek's parent company.
[Don't put the brakes on BYOD; enjoy the ride. See Mobile Strategy: How & Why To Go Faster.]
Trollope said WebEx is completely redesigned to be native in Chromebook. Users can join a WebEx meeting directly from their calendar or begin a session via contacts or the Google People widget, for example. Cisco UC capabilities -- such as messaging, click-to-call, Cisco presence, and fax -- appear next to Gmail on Chrome's interface.
This partnership is part of Cisco's drive to simplify telepresence and make it more user friendly, Trollope said. While on stage, he unpacked a shipping box and set up a Cisco Telepresence SX10 Quick Set all-in-one unit to demonstrate the system's simplicity. The SX10, which sells for about $1,500, is controlled via a remote or smartphone equipped with Cisco's Proximity app.
Figure 1: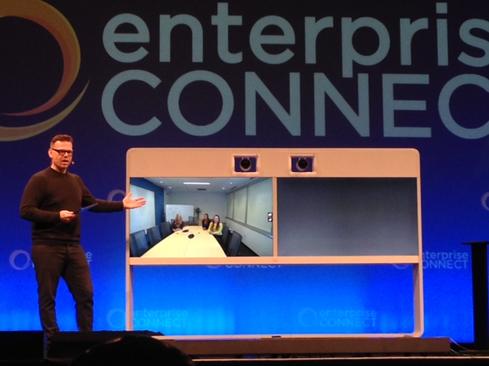 Cisco's Rowan Trollope demonstrates the Telepresence
MX700 at Enterprise Connect.
To address boardroom users' needs, Cisco showed the dual-screen Telepresence MX700, featuring two 55-inch high-definition displays. The design came out of Cisco's 2010 acquisition of the videoconferencing specialist Tandberg, Trollope said.
"When you go into a room you feel like you want to use it, not 'That looks complicated. Let me call someone in IT,'" he said in the keynote.
The MX700's software uses advanced facial detection and other capabilities to frame the remote speaker automatically, and it zooms in to focus on people, not empty chairs. Users control the device with a remote or their tablet. It supports H.264 and is H.265-ready, allowing it to deliver high-definition images at half the bandwidth, Trollope said.
Reuben Goodwin, an attendee at Enterprise Connect, said he found the small form factor and simplicity appealing. "The best part? No manual. If a user needs to read a manual, they just want to forget about it," said Goodwin, a telecommunications analyst at Health Alliance Plan, which is investigating boardroom teleconferencing systems.
What do Uber, Bank of America, and Walgreens have to do with your mobile app strategy? Find out in the new Maximizing Mobility issue of InformationWeek Tech Digest.
We welcome your comments on this topic on our social media channels, or
[contact us directly]
with questions about the site.