The smartphone maker's quarterly results were abysmal, with a loss of $4.4 billion on shipments of only 1.9 million smartphones, mostly older models.
BlackBerry's third fiscal quarter was brutal. Sales of its smartphone plunged to new lows and the company was forced to take another writedown on unsold device inventory. The smartphone maker may have revealed a new turnaround strategy, but its success is hardly assured.
The company shipped approximately 1.9 million BlackBerrys during the third quarter, down nearly 50% from the previous quarter's shipment of 3.7 million. Most of the handsets it sold run BlackBerry 7, its previous-generation operating system. It sold almost no new BlackBerry 10 devices. BlackBerry's retail partners sold through a lot of their channeled supply, but BlackBerry didn't count those as new sales or shipments. Those partners sold a total of 4.3 million BlackBerrys. Again, most of them were older BlackBerry 7 models. No one, it seems, likes BlackBerry 10 very much.
To put this into perspective, Apple sold more than 4 million iPhones the first weekend the iPhone 5s and 5c went on sale in September.
BlackBerry lost $4.4 billion on revenue of just $1.2 billion. In the previous quarter, BlackBerry lost $965 million on revenue of $1.6 billion. Most of the loss can be attributed to writedowns and charges. Magically, the company still has $3.2 billion in cash or cash equivalents on hand. BlackBerry can thank Fairfax Financial Holdings for its large investment last month for this.
[The enterprise is looking for a new mobility partner. Will iOS 7 Be The Next BlackBerry?]
Things look bleak, but BlackBerry said it has a plan to get back on track.
First, it is restructuring its business units into four pillars: Enterprise Services, Messaging, QNX Embedded, and Devices.
Its Enterprise Services division is already in fairly good shape. The company claims to have 30,000 BES 10 serves in use or in testing. Its global enterprise customer base exceeds 80,000, making BlackBerry the largest mobile device management provider.
Messaging is going fairly strong, too. BlackBerry Messenger, for example, has proven surprisingly popular on Android and iOS devices. The company claims that it has scored more than 40 million downloads of the application since its release two months ago. BlackBerry didn't say what its total user base is, but is should be close to, if not over, 100 million. BlackBerry has even scored some wins with competitors such as LG, which has agreed to preload BBM on its Android smartphones moving forward.
BlackBerry's QNX Embedded and Devices businesses are much more questionable. The company says it is going to unveil new cloud-based technology for cars at the Consumer Electronics Show next month. BlackBerry purchased QNX several years ago and it forms the underpinnings of BlackBerry OS 10. It has long been used in cars. Looks like BlackBerry is bringing QNX back to its roots.
The company has struck a partnership with Foxconn, which manufactures Apple's iPhone, to make a new, low-end smartphone for emerging markets. The device will be limited to 3G wireless, but will run the newer BlackBerry 10 operating system. The device may arrive as soon as March or April, and it will first target Indonesia.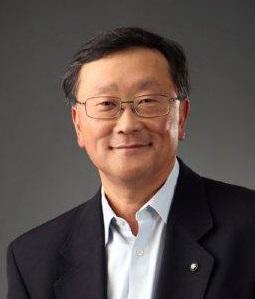 CEO John Chen
One thing seems to be painfully clear: BlackBerry's Z10, Q10, and Z30 smartphones can't compete with Android, iOS, or even Windows Phone. Given BlackBerry 10's utter failure in the market, it's a wonder BlackBerry doesn't can the hardware business entirely.
"With the operational and organizational changes we have announced, BlackBerry has established a clear roadmap that will allow it to target a return to improved financial performance in the coming year," said John Chen, BlackBerry's CEO. "While our Enterprise Services, Messaging, and QNX Embedded businesses are already well-positioned to compete in their markets, the most immediate challenge for the company is how to transition the Devices operations to a more profitable business model." No kidding.
"We have accomplished a lot in the past 45 days, but still have significant work ahead of us as we target improved financial performance next year," added Chen. "However, the company is financially strong, has a broad and trusted product portfolio to work with, a talented employee base, and a new leadership team dedicated to implementing our new roadmap."
Chen has only been with the company a short while. His plan may keep the company alive for a short period, but it's certainly not going regain its stature as a premier smartphone maker. Those days are past. Perhaps BlackBerry can survive as an enterprise device management company. Perhaps it can't.
Eric Zeman is a freelance writer for InformationWeek specializing in mobile technologies.
IT is turbocharging BYOD, but mobile security practices lag behind the growing risk. Also in the Mobile Security issue of InformationWeek: These seven factors are shaping the future of identity as we transition to a digital world. (Free registration required.)
We welcome your comments on this topic on our social media channels, or
[contact us directly]
with questions about the site.