IT Spending In 2016: Slower Growth Expected
After four years of steadily increasing growth, IT operational budgets appear to be growing at a slower rate for this year, according to a study released this week by Computer Economics.
The study, based on projections of IT spending plans by 86 organizations in the US and Canada, indicated that IT operational budgets will grow about 2%. Even though this is still an upward trend, it's slower than the rate of improvement since 2012, researchers said.
At the same time, though, IT capital spending appears to be on a rebound from the recession, according to Irvine, Calif.-based Computer Economics.
Figure 1: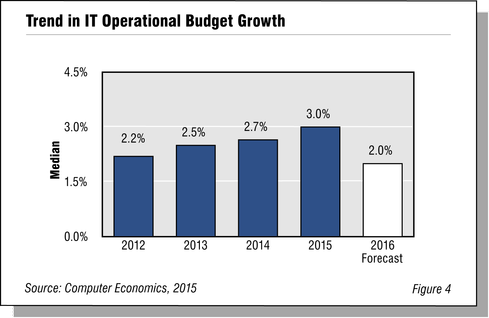 Overall, the research firm found that plans for IT spending in 2016 varied depending on the size of the organization and industry sector. Small and midsize companies -- especially financial, professional and technical services firms -- plan to spend more on IT operations, and also increase IT capital budgets by "a substantial margin," the firm said. But large companies, particularly manufacturing firms, don't expect to any growth in their IT budgets or are even cutting back.
Spending priorities
The Computer Economics study also looked at what areas of IT organizations plan to invest money. A net of 46% of IT organizations plan to spend more on business applications in 2016. The trend of investing more heavily in business applications has growing for several years and appears to be accelerating, researchers said. (The net percentage includes the percentage of those polled who plan to increase spending in the area minus the percentage that plan to decrease spending, they said.)
Good news for those in networking: Network infrastructure also is a priority, with 17% of those surveyed saying they plan to spend more on it. But spending on data center infrastructure -- including servers, storage and software -- appears to be declining, which Computer Economic attributes to the rise of cloud services.
In terms of strategic initiatives this year, security is a priority for IT executives, with a net 59% of IT organizations plan to spend more on security, according to Computer Economics. The finding is significant, "given that it overtakes cloud applications as the top strategic initiative," researchers said.
Still, "the momentum toward cloud is undeniable," they said. A net 53% of organizations said they plan to spend more on cloud applications and 37% plan to spend more on cloud infrastructure.