Using Carrier WiFi To Offload IoT Networks
If you are using your ISP's cellular service in any major US or European city, you probably have heard of WiFi offload or Carrier WiFi. Many big cellular carriers and ISPs are now deploying large numbers of WiFi hotspots in cities using the existing infrastructure of their customers' homes and businesses.
According to the Wireless Broadband Alliance, figures for 2013 put the total number of WiFi hotspots owned by mobile operators worldwide at 6.5 million. That number is forecast to grow 62% by 2018 to 10.5 million.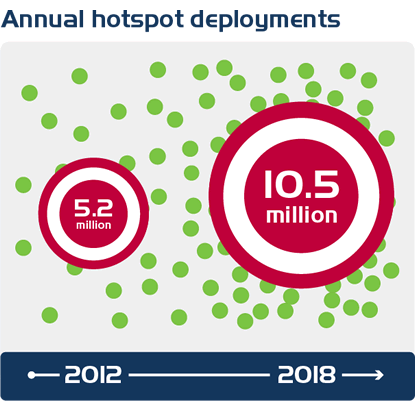 The fact that 70% of consumers have WiFi coverage more than 70% of the time shows the great potential of WiFi.
While this enables carriers to offload the saturated bandwidth on 3G and LTE networks, it also creates a huge opportunity to connect a large number of connected devices, with the flexibility of having WiFi everywhere. Carrier WiFi has the potential to provide a connectivity solution for the burgeoning Internet of Things (IoT).
Most of the machine-to-machine (M2M) devices in use today, such as home alarms, smoke detectors, garbage containers and street lamps, use the cellular carriers 2G (SMS)/GPRS/EDGE networks. Normally, this provides good connectivity because the amount of data being transmitted is very small.  Imagine a street lamp just sending a status signal when it needs to turn off and on.
Until recently, the small number of those sensors, and their high cost, did not justify looking for alternative types of connectivity.  But now cities and businesses are installing them everywhere and for everything. Several experts expect over 50 billion connected devices by 2020.
This IoT explosion is creating many connectivity problems when it comes to installing small sensors and M2M controllers. Here are some complicating factors:
1. Some cellular operators are already phasing out 2G networks to reduce licensing costs and invest in more profitable LTE infrastructure. This will create a serious problem for millions of M2M devices currently working on the GSM spectrum.
2. Using cellular data for new devices is expensive, especially if the device needs to have room for a SIM card. And, if integrating a SIM card is possible, it will only work with one provider, making it necessary to change the SIM module for every country/market.
3. Using Bluetooth is another possibility, but the range is limited (unless you use the high-power Class 1) and it needs a receiver nearby.
Here is where carrier WiFi could provide the solution, especially in congested areas: The greater density of connected devices, the larger the number of WiFi hotspots available.
In theory, carriers and ISPs could offer hundreds of available WiFi hotspots per square mile and connect thousands of low power devices, without any significant impact on their customers' residential and business networks.
New WiFi standards such as 802.11ac and the upcoming "sub 1GHz" 802.11ah, for license-exempt data transmission could offer the infrastructure needed to deploy large numbers of connected devices for city services. Residential customers will also benefit by having access to the large network of hotspots and could connect their own IoT devices to the same grid.
It's clear we need several connectivity options for the 50 billion devices we'll have six years from now, and carrier WiFi could be a good solution for part of that. Work is under way to define the new 5G standard, which will combine several technologies such as WiFi, Bluetooth, LTE, and others. Until then, many players are launching proprietary solutions, but I believe the simpler the better. WiFi is everywhere. It's cheap to implement and open to everyone.