Intel Debuts Eight-Core Nehalem-EX
| | |
| --- | --- |
| | |
ANALYTIC REPORTS & WHITEPAPERS
2010 IT Salary Survey
Stagnant pay is easy to spot in our U.S. IT Salary Survey. But pay attention to the consequences: employees worried about their jobs, craving recognition, and preparing to leave if opportunity knocks. Check out the full, in-depth report.
Download Now (Registration Required)

FEATURED WHITEPAPERS Comprehensive Application Security Solution Revealed

Continuous application availability begins with a comprehensive application protection solution. Understand how the comprehensive security features of Citrix NetScaler protect against DoS/DDoS, deliver intrusion filtering capabilities for application-level protection, and provide complete, hardware-based encryption to offload CPU-intensive cryptographic functions from the servers.

Download Now Modeling the Virtual Data Center

Control who manages your infrastructure, what systems are being provisioned, how applications are designed and configured, and where and when they are deployed.

Download Now
FEATURED BLOG
iPad Encouraging New Levels Of Tech Obsession
By Eric Zeman
Techies, geeks and Apple fanboys alike are exhibiting alarming symptoms of obsession over the iPad. Apple is doing its own part, too, to fan the flames of excitement with its controlled mitigation of minutia.

ALSO SEE
Hackers: How To Manually Update Droid To 2.1
By Eric Zeman
If you're the type to take risks and can't wait for Verizon's official over-the-air Android 2.1 update to reach your Motorola Droid, here are the instructions you need to update it manually.

iPad Apps May Cost More
By Ed Hansberry
If you already have an iPhone you probably have a suite of apps that you can't do without. Before you assume you'll buy them all for the iPad, you might want to check out the pricing. According to preliminary information, some developers are considering charging two, three or even as much as five times the price they charge for the iPhone.

If You've Got Big Data, You May Want Big Memory
By Charles Babcock
Jas Dhillon, CTO of Taser, explained to me last December how his company has gone from delivering stunning shocks to unruly police suspects to shocking the competition via cloud computing. In continuing to follow Taser's innovative approach, I found a story behind the story of how Taser was able to do this.

Apple Updates iTunes Ahead Of iPad Launch
By Eric Zeman

Today Apple made iTunes version 9.1 available via its software update tools. The new version of iTunes offers just a handful of new features, mostly geared toward Saturday's launch of the iPad.


Implementing Smart Compliance

In this webcast, you will learn how to adopt integrated controls that enables organizations have a clear, unified view of who is accessing what. You'll also learn how to implement preventative, detective and corrective controls for managing user life-cycle as per compliance and security requirements -- and much more! It happens April 8, 2010 at 11:00 AM PT / 2:00 PM ET

More Information & Registration
InformationWeek Daily Newsletter

-- Published By

InformationWeek

600 Community Drive

Manhasset, NY 11030

To subscribe to our other newsletters, change your e-mail
address or format (Text/HTML) or to unsubscribe, click here
This e-mail was sent to %%email%%



Keep Getting This Newsletter

Don't let future editions of InformationWeek Daily go missing.
Take a moment to add the newsletter's address to your anti-spam white list:
email@techwebnewsletters.com

If you're not sure how to do that, ask your administrator or ISP.
Or check your anti-spam utility's documentation.

We take your privacy very seriously. Please review our Privacy Statement.

GET MORE OUT OF INFORMATIONWEEK
Keep up with the latest news, insights and trends as InformationWeek reports them:



More Free
Newsletters
Join Us On
Facebook
Follow Us
On Twitter
Get Topical
News Alerts

Slideshows
Audio Interviews
Archived Audio Interviews
Jeremy Schulman, founder of Schprockits, a network automation startup operating in stealth mode, joins us to explore whether networking professionals all need to learn programming in order to remain employed.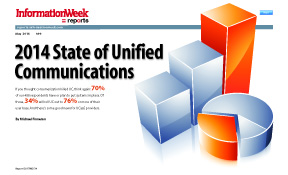 2014 State of Unified Communications
If you thought consumerization killed UC, think again: 70% of our 488 respondents have or plan to put systems in place. Of those, 34% will roll UC out to 76% or more of their user base. And there's some good news for UCaaS providers.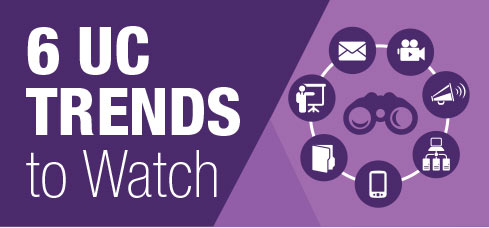 6 UC Trends to Watch
InformationWeek's 2014 Unified Communications Survey shows a revitalized market; 77% of 488 respondents have deployed UC or plan to within 24 months. Among those deploying or with plans, internal IT owns this tech: 40% will keep UC completely on premises vs. 3% going all cloud. For hybrid setups, 24% are primarily on premises vs. 17% mostly cloud.