Dell Servers Gaining | 10 Best Apps For Samsung Galaxy Notes
DOWNLOAD THE PREMIERE ISSUE OF 'INFORMATIONWEEK'S MUST READS'

Labor Day Weekend is nearly here. While the burgers are sizzling, grab a lounge chair and read our premiere issue of InformationWeek's Must Reads--a compilation of our best recent coverage of a particular issue.

Our debut issue focuses on Enterprise Mobility.

DOWNLOAD NOW FREE (Registration Required)

REPORTS & WHITEPAPERS
FEATURED WHITEPAPERS 11 Key Questions to Ask of a BI Solution

Any organization investing in business intelligence needs to define the capabilities that will help them to win against the strongest competitors in their market. This whitepaper first looks at the fundamental requirements that a BI solution should deliver to your company and covers the 11 key questions that you should be asking of a future BI technology partner.


Download Now (Registration Required) Capacity Management & Lean Six-Sigma

With the help of Lean Six-Sigma methodology, capacity management can be used to consciously eradicate capacity waste. Based on operational feedbacks, this white paper shows how capacity management activities can systematically identify and eliminate IT waste. It also provides directions for using lean methodology in capacity management as a means to reach even greater efficiency.


Download Now (Registration Required)
MOST POPULAR NEWS
Java Zero Day Attack: Second Bug Found
Were security researchers irresponsible to detail the zero-day vulnerabilities without first working with Oracle to craft a patch?
Google Gives Nexus 7 Prime Ad Spot
Google embellishes its usual pristine, white search page with an ad for its 7" Android tablet.
Java Zero-Day Attack Could Hit Enterprises Hard
In-the-wild exploit targets unpatched Java 7 vulnerability affecting Windows, OS X, and Linux. Security experts advise disabling Java in browsers.
Outsourcing's New Reality: Choice Beats Cost
Creative CIOs are getting not only savings but also added flexibility and specialized skills from their IT outsourcers. Just don't expect magic.
11 Super Mobile Medical Apps
Healthcare is in the middle of a mobile revolution. Doctors are adopting mobile apps that make them more effective, and patients are taking to ones that give them more control over their healthcare. Here are 11 apps that stand out from the crowd.
RESOURCES AND EVENTS
InformationWeek 2013 Big Data Survey
We are conducting a survey to determine whether or not organizations are pulling in the right information, how they're employing that information, and the tools being used. A 32G iPod touch goes to one lucky, randomly drawin participant!
Survey Ends August 31
This e-mail was sent to

EmailAddress

InformationWeek Daily

-- Published By

InformationWeek

600 Community Drive

Manhasset, NY 11030

To update your profile, change your e-mail address, or unsubscribe,

click here.

Thoughts about this newsletter?

Give us feedback.

Keep This Newsletter Out Of Your SPAM Folder

Don't let future editions of InformationWeek Daily go missing. Take a moment to add the newsletter's address to your anti-spam white list:

email@techwebnewsletters.com

If you're not sure how to do that, ask your administrator or ISP.

Or check your anti-spam utility's documentation.

We take your privacy very seriously. Please review our

Privacy Statement.

Slideshows
Audio Interviews
Archived Audio Interviews
Jeremy Schulman, founder of Schprockits, a network automation startup operating in stealth mode, joins us to explore whether networking professionals all need to learn programming in order to remain employed.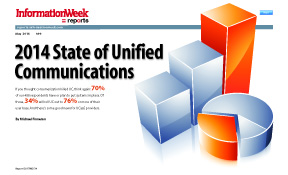 2014 State of Unified Communications
If you thought consumerization killed UC, think again: 70% of our 488 respondents have or plan to put systems in place. Of those, 34% will roll UC out to 76% or more of their user base. And there's some good news for UCaaS providers.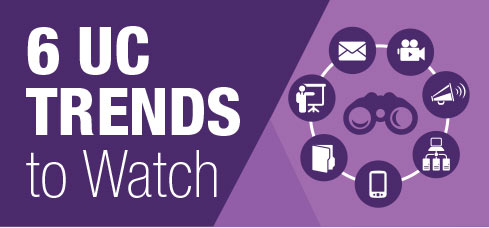 6 UC Trends to Watch
InformationWeek's 2014 Unified Communications Survey shows a revitalized market; 77% of 488 respondents have deployed UC or plan to within 24 months. Among those deploying or with plans, internal IT owns this tech: 40% will keep UC completely on premises vs. 3% going all cloud. For hybrid setups, 24% are primarily on premises vs. 17% mostly cloud.