With WiFi about to take off, enterprises can look forward to improved indoor calling, but they need to prepare to support it.
In my last post, I described what WiFi calling is and the benefits it offers. I also looked at some of the issues it may pose in the enterprise. In this post, I'll examine ways that enterprises can prepare for the adoption of WiFi calling.
WiFi calling has a lot of potential in the enterprise, where some employees no longer hand out their landline numbers to associates or include them on business cards, and are increasingly relying on solely on mobile phones. Yet at times they have to pace about in parking lots (sometimes in the rain) or cluster by windows just to get a signal. Other times, they suffer through dropped calls or jittery voice quality.
However, while some may view WiFi calling as an almost free solution that solves indoor calling problems at little to no cost by leveraging existing infrastructure, it's not that simple. Here's why:
If WiFi calling becomes a widely used, demands may be placed on the networking team to improve call quality. However, WiFi network admins are already wrestling with BYOD, hyper-location services, bandwidth waste by YouTube users, neighbors with unauthorized access, and other firefighting tasks. They don't need another reason to bring out a RF or network analyzer. Many wired VoIP networks are kept on a separate network for a reason, and voice traffic can be separated using VLANs or prioritized appropriately.
WiFi calling may increase capex if additional WiFi devices are provisioned for more signal coverage, adding additional opex if special tuning is required for voice data prioritization, and some process changes are needed if the network admins are called for support whenever there is a perceived voice quality problem. An IT team may be set up for supporting wired standard desk VoIP phones, but who will support voice call quality from handsets that may be on either WiFi or the mobile network?
There are a couple paths enterprises can take to prepare for WiFi calling: Improve traditional WiFi networks, or look to mobile operators to assist with indoor coverage.
Boost WiFi networks
Improving the traditional campus networks to support WiFi calling is a path many enterprises will choose. It's cost effective and will leverage existing infrastructure.
Makers of WiFi APs support Voice over WLAN and some capabilities can be repurposed to support WiFi calling. For example, Aerohive APs have voice QoS settings, Aruba has AppRF packet classification settings, Cisco Aironet has the ability to separate voice traffic to different VLANS, and Ruckus has voice QoS using its SmartCast technology.
Figure 1: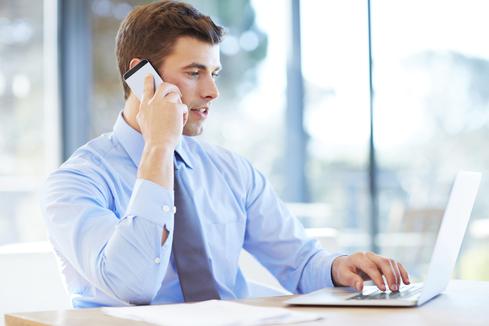 (Image: Squaredpixels/iStockphoto)
Some of these solutions were created to work with traditional VoIP phones or apps like Microsoft Skype for Business. Therefore, WiFi calling may require additional investigation or collaboration with networking or mobile vendors.
In addition to adjusting WiFi AP settings, the rest of the network path, such as campus switches, need to support the traffic as well, so campus switches may require examination for updating or reconfiguration.  
Work with mobile operators
Mobile carriers and equipment makers offer enterprise-grade indoor mobile coverage solutions for building owners, malls and campuses. Here are some options:
Consumer-class signal boosters or routers: Not appropriate for enterprise offices, but may be useful for work-at-home users.
Femto cells: These are consumer devices that create a small mobile coverage area and take the voice and data out to the carrier via broadband. It may be acceptable for small businesses connecting a handful of designated users (often a dozen or less), but for wider coverage, enterprise class solutions are needed.
Pico cells: Mobile base stations provided by mobile operators to improve coverage within the office and connected to a controller, which in turn connects to the mobile network.
Distributed antenna systems (DAS): Comprised of rooftop antennas that spread the mobile signal through a large area via indoor antennas. Although expensive, the benefit is that it is transparent to the endpoint device. This makes sense for improving indoor coverage at airports, train stations or shopping malls. It can be carrier neutral, but the system needs to deal with many combinations of technologies such as LTE, CDMA or UMTS.
One enterprise solution, the Ericsson Radio Dot System, is designed for installations smaller than a distributed antenna system but larger than a pico cell. It distributes a cell signal in an office floor from a central base station via network cables, which also supply power using Power Over Ethernet. Some enterprise WiFi access points, such as the Cisco Aironet 3600, can accept 3G small cell modules as well.
In the future, there will be more technologies available to combine the capabilities of WiFi with mobile (LTE) to provide better service, such as LTE+ WiFi Link Aggregation. I look forward to those developments to create a clean solution that leverages both networks.
We welcome your comments on this topic on our social media channels, or
[contact us directly]
with questions about the site.