WiFi troubleshooting tools are moving beyond laptops to mobile devices. Though these professional-grade apps provide increased flexibility, they have their downsides.
Not so long ago, wireless networks serviced laptops only, and WLAN tools were delivered in laptop form factors almost exclusively. But as mobile client devices displace laptops as the client majority, professional tools need to keep up. Sounds simple, right? Not really. Let's look at the complexity of moving WLAN tools on to mobile device platforms and why some WLAN administrators resist buying in.
Every WLAN pro has his or her favorite WiFi troubleshooting tools, and the list of old standbys for RF analysis includes tools from AirMagnet, Ekahau, MetaGeek, and TamoSoft. On the packet analysis side, popular tools include products from WildPackets, Wireshark, and ColaSoft. Each of these vendors offers a variety of laptop-based tools, but so far, only a few are embracing the mobile device paradigm.
RF analysis and site survey tools are arguably a bit simpler to provide to mobile users, since these utilities don't tend to have the same strict WLAN adapter requirements or processing power as WiFi packet capture tools. Consequently, this is where we've seen the most "porting over" of capabilities by WLAN tool makers into the mobile space.
Ekahau, AirMagnet, and MetaGeek all provide pretty decent Android-based versions of their spectrum monitoring and survey tools for smartphones and tablets. And a company called Access Agility has had perhaps more success than any other in getting tool-grade WiFi apps into the Apple store.
Even though I'm a huge fan of the various professional-quality mobile WiFi apps I use, there are some gaps and a mindset to be addressed before more admins will spend money on mobile WLAN tools.
The explosion of mobile devices and well-stocked app stores has been a blessing for those of us who crave ever more functionality in the palm of our hands. From entertainment to productivity, free and low-cost apps abound. Here's where it gets a bit thorny for WLAN tool makers. WLAN admins rarely questioned dropping hundreds or even thousands of dollars on laptop-based software. We'd send our PO off, get a shrink-wrapped box with a couple of CDs and license paperwork, and go through the mechanics of putting a new tool into play.
But with mobile devices, there's a mental speed bump to clear before dropping big dollars on WiFi tool apps. Even if our left brain realizes that, yes, these are real tools from our favorite longtime vendors, our right brain is yelling, "But this is an app! No app costs hundreds of dollars!" Maybe this is a generational phenomenon, but it can't be discounted.
In time, vendors will find price points for app-version tools that WLAN administrators can live with, and admins will have to get used to paying real dollars for apps. However, there are other challenges with these new wireless troubleshooting apps.
WiFi tool apps -- even the better ones -- are still constrained to smaller screens and are usually limited to the onboard WLAN adaptor. As a result, they might deliver only a subset of the functionality that laptop WLAN tools provide. This is where effective use of a small screen makes all the difference, and some do it better than others. At the same time, laptops with high-powered WiFi adaptors and beefier antennas can make you draw faulty conclusions about how mobile clients might work in a given space.
Everything is a tradeoff here, and more experienced WLAN engineers know how to leverage what's good about mobile and laptop tools without letting what's less than perfect with any tool lead them astray when doing RF views.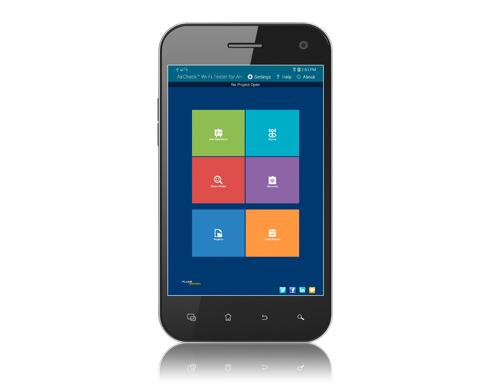 Still, the mobile WLAN tools space is developing rapidly. One tool that's gotten past some of the technical hurdles, making the jump nicely to mobile devices is Fluke Networks' Air Magnet AirCheck for Android. Run on an 802.11ac-equipped tablet, AirCheck provides rich RF characterization, user performance testing, and site survey capabilities with impressive mastery of the small screen space available.
The same functionality from the handheld tester and Windows versions has been nicely replicated, with no features feeling lost in the app version. By managing to keep the user interface almost identical, Fluke Networks proves that mobile WLAN apps can in fact be just as good as "bigger" versions when developed properly.
Lee Badman will discuss the "Yin and Yang of Cloud-Managed WiFi" at Interop New York, which runs Sept. 29-Oct. 3. Register today.
We welcome your comments on this topic on our social media channels, or
[contact us directly]
with questions about the site.