A recent survey shows that unified communications is growing in the enterprise, despite many IT pros' lack of familiarity with the term.
Imagine a technology that is used by nearly half of businesses today, with more than three fourths of businesses planning to deploy the technology in the near future, yet the majority of IT pros aren't familiar with its name. While this may sound like a riddle, it's actually a description of the state of adoption for unified communications (UC) in the enterprise.
A recent Evolve IP survey of nearly 1,000 IT professionals and executives showed that the main disparity around UC adoption stems from IT pros' lack of familiarity with and understanding of the term "unified communications." More than 70% of respondents noted that they were either "not at all familiar" or just "somewhat familiar" with the term.
In general, UC is defined as the concept of consolidating phone, email, fax, chat, video, and collaboration into a single unified channel, either on a device or on a computer.
Based on the survey stats noting lack of familiarity, you would think that an IT solution with such low recognition would have no future in the enterprise. Surprisingly, just the opposite is true. After seeing the definition of the term, 40% of participants were admittedly already using components of UC, and of the respondents who were not using UC, 84% said they were considering implementing components within the next three years. This infographic has more details from the survey about UC adoption.
Regardless of actual familiarity with UC, high projected adoption rates can be tied to the clear benefits these technologies deliver. Having a consolidated and unified system of communication within your business helps to increase efficiencies and make internal operations more seamless. It can also help your business stay ahead of the competition for talent by providing cutting edge IT  and perks such as BYOD and telecommuting.
The Evolve IP survey supports that fact by showing companies with currently deployed UC components as more likely to have BYOD and work-from-home programs. Of the companies using UC, 61% offer a BYOD program and 60% offer a work-from-home program. In contrast, of the companies not using UC, 48% offer a BYOD program and 40% offer a work-from-home program
Clearly, a UC solution, which is designed to enhance productivity and collaboration regardless of location and proximity, is especially helpful for companies looking to keep their remote workers connected to staff and resources.
Despite the benefits, the lack of familiarity with UC creates major roadblocks for adopting a complete solution. How will organizations approach a UC deployment if they don't have a clear understanding of what it is? It leads to several questions prior to a deployment. For instance, the survey revealed that the major obstacles cited were selecting the right system and provider, determining feature priorities, and employee adoption. 
Figure 1: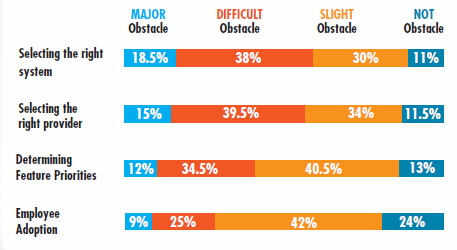 So where should you start? Successful deployments begin with a thoughtful strategy to help eliminate these obstacles. To overcome system and provider selection concerns, start by examining your business needs and determine your organization's primary communication method (be it email, phone, chat, etc.) The technology used for your primary communication method should be the cornerstone to building your UC strategy. From that point, build out and add on features and components that will create a platform that's tailored to your needs.
As with most worthwhile ventures, there is no quick fix to implementing UC. In order for your organization to fully realize the benefits, the UC system must work well and be intuitive in order to drive user adoption. Leveraging technology partners to provide insight and recommend the appropriate features for your organization will prove invaluable and have a direct impact where it matters most: the bottom line.
We welcome your comments on this topic on our social media channels, or
[contact us directly]
with questions about the site.