With the overlap of Cisco and Microsoft in the enterprise, and both vendors pushing their voice technologies, organizations can have a tough time picking a vendor.
Approximately 70% to 75% of enterprises have Cisco networking equipment, while 60% to 65% of enterprises have deployed Microsoft Lync for instant messaging (IM) and presence. Furthermore, Cisco has between 25% and 35% of the enterprise PBX market. This suggests that a sizeable number of enterprises have both Cisco voice and Microsoft Lync deployed, which can lead to a challenging decision on which vendor to choose for strategic communications in the enterprise.
With the overlap between Cisco switches and Microsoft software in the enterprise, both companies are pushing hard for their voice solutions to be adopted. Cisco wants organizations to abandon Microsoft Lync in favor of Cisco's Unified Communication Manager (PBX) and its accompanying Jabber IM/presence/collaboration client and WebEx collaboration capabilities. Likewise, Microsoft wants organizations to end-of-life their Cisco PBX in favor of a unified communications system based on Microsoft Lync IM/presence, conferencing, and Enterprise Voice.
Figure 1: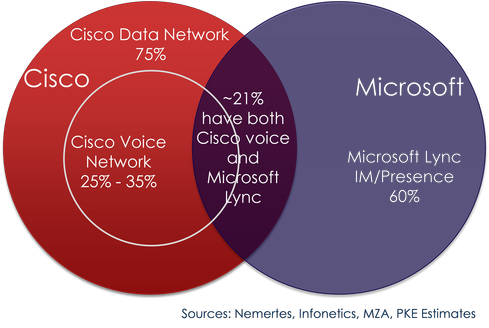 Cisco network/voice and Microsoft Lync have overlap in the enterprise communications and collaborations market.
Choosing between them can be very difficult because the networking people are passionate about Cisco while the enterprise software people are passionate about Microsoft. Both groups of employees are articulate, educated, and well-meaning, and they often become quite entrenched in their opinions of which strategic decision an organization should make with respect to voice and collaboration solutions.
There are basically four different deployment choices an organization can make to resolve the Cisco vs. Microsoft dilemma. Two of these are elimination strategies and two are coexistence strategies.
Figure 2: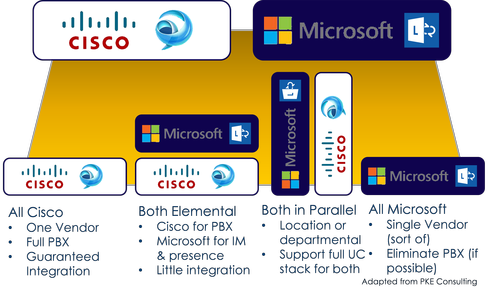 Four deployment choices for resolving the Cisco vs. Microsoft communications and collaboration dilemma.
Both Microsoft and Cisco solutions have excellent capabilities, and these are enhanced as the full solution stack is deployed. However, they come at the market from very different perspectives. Cisco approaches the market from the network perspective, suggesting that there should be integration between the network layer and the communications layer. Microsoft approaches the market from the application software perspective, suggesting that there should be tight integration and consistency between desktop software and the communications and collaboration infrastructure. The problem is that both can be compelling!
In my next blog post, I'll outine ways to solve the contention.
We welcome your comments on this topic on our social media channels, or
[contact us directly]
with questions about the site.