GlobeXplorer installs Isilon gear, a move that highlights the rise of alternatives to NAS
Figure 1: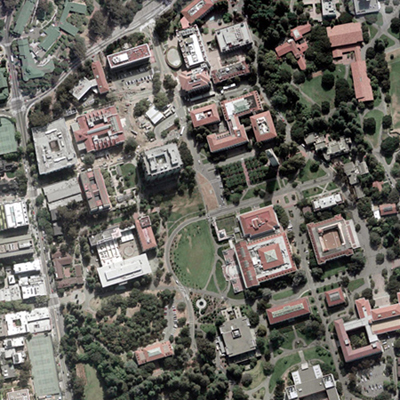 Aerial view of the University of California at Berkeley. Source: GlobeXplorer
Because Isilon allows data volumes to span multiple physical devices while maintaining a single namespace across storage nodes, it's faster to access, easier to manage, and more scaleable than multiple arrays. It holds file systems up to 168 Tbytes and includes replication, load balancing, and Gigabit Ethernet or InfiniBand links between systems (see Isilon Embraces InfiniBand).
NetApp also had not responded to a request for comment on the GlobeXplorer account at press time.
Isilon's gleeful about its success with a series of rich-content customers. These include Kodak EasyShare, Lexis Nexis, NBC, and Sports Illustrated (see Sports Illustrated and Isilon Scores Super Bowl Storage).
"We've more than doubled our customer base in the last six months," boasts Brett Goodwin, VP of marketing at Isilon. He insists it's part of a broader trend among companies with huge amounts of large digital files or high-resolution originals that require streamlined storage and workflow for their businesses.
We welcome your comments on this topic on our social media channels, or
[contact us directly]
with questions about the site.