Desktop virtual infrastructure now includes new cloud-based options, with the potential for improved user experience and lower cost. Fusion PPT compared the leading vendors and their offerings.
In spite of its many perceived benefits, virtual desktop infrastructure (VDI) has yet to fully gain traction and still remains a niche market. After well over a decade since its early introduction, VDI has faced challenges when it comes to truly duplicating the local desktop and competing on cost.
The introduction of cloud-based computing models for VDI (known as desktop as a service or DaaS) now offers a combined benefit and challenge to the IT decision maker. Whereas on-premise data center-hosted VDI represented a known model that has been tested and refined over the years, cloud-based VDI is the new kid on the block and has yet to effectively prove itself.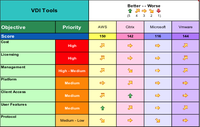 In this guide, we take look at four of the leading VDI vendors, including their capabilities and differentiators. These include Amazon (AWS), Citrix, Microsoft, and VMware (an EMC company). Read on for the full discussion, or click on the thumbnail at right to jump to the comparison matrix.
3 main reasons to use VDI
So why would anyone consider adopting a VDI-based approach to desktop computing? Well, on paper, the expected benefits seem quite compelling. Will they pan out in the long run?
Centralized and simplified IT desktop management 
To begin, take the scenario of patch management. In VDI, patches and software updates can be distributed in a centralized and simplified manner, because IT no longer needs to manage the individual deployment to each unique computer. The deployment can also occur from a centralized management console. Updates need not be solely to desktop PCs, but also can include mobile devices and thin clients.

A centralized server-hosted virtual desktop (SHVD) infrastructure also provides the benefit of simplified backup operations. With proper infrastructure and bandwidth in place, such an approach will minimize the network congestion of backups that would otherwise occur from a myriad of desktop systems.

VDI also enables IT to provide higher security control and compliance. Servers can now be locked down and secured in a more manageable manner, with less risk to local desktop vulnerabilities. For example, administrators can provide central security policies that apply to all users and minimize the malware footprint, should there be an infection. The desktop can be re-commissioned from the base image when problems arise.
 
Reduced cost and hardware 
Harnessing the power of server pools that are unseen to the end user, VDI offers the benefit of more effective use of centralized computing capacity. This can translate in real dollars to a diminished need to purchase new hardware and the additional associated software, licensing, and support costs that are seen in capex and opex dollars. As one scenario, older desktop hardware (with sufficient native capacity) can be retained and used as thin client devices for users who are working on general-purpose tasks that do not require high-end client devices.
 
Increased mobility and remote access 
Another important benefit that VDI provides is the ability to access desktop from remote locations, and with different computing devices. This can be a very accommodating feature for remote and mobile workers who do not really have a fixed work location. With many VDI solutions, the active desktop state can be preserved, enabling users to pick up right where they left off.
In this guide, we look at four enterprise vendors providing VDI-based products. There are many other mid-market VDI vendors, as well as open-source solutions from StackVDI, QVD, and others.
VDI delivery methods
Vendors have chosen different means to implement VDI. Historically, solutions first began with the typical on-premise server-hosted virtual desktop model, focusing on the data center. As VDI and cloud computing have matured, a second software-as-a-service model of desktop computing has been reborn in the form as DaaS.
In its simplest form, DaaS is VDI in the cloud. However, as with all cloud-based solutions, the customer must rely upon the cloud service provider (CSP) to deliver critical infrastructure that is no longer under the control of the IT organization. DaaS solutions are marketed as being able to handle the challenges of traditional VDI, such as complexity and cost. In DaaS, customers pay a monthly flat fee and are able to obtain a VDI infrastructure without the initial investment.
The third option consists of a hybrid approach that leverages both the on-premise and cloud-based models.
It's also worth noting that various DaaS providers deliver their "desktop" experience via Windows Server (AWS and VMware, for example). This is primarily done as a way around Microsoft's multi-tenancy licensing, Microsoft's Service Provider Licensing Agreement (SPLA), which requires the hosting hardware to be dedicated to each individual customer. SPLA also requires customers to own the client OS license.
NEXT: AWS
We welcome your comments on this topic on our social media channels, or
[contact us directly]
with questions about the site.