Virtualization has changed the way modern datacenters operate, but I/O bottlenecks still hamper storage systems and application performance. Flash hypervisors could be the answer.
In today's enterprise, IT managers need a way to efficiently scale storage performance using virtualization, much in the same way they scale server compute and memory. This has given rise to a new technology, called the flash hypervisor, which is paving the way to true software-defined datacenters. By aggregating available flash storage into clusters that accelerate the performance of reads and writes, flash hypervisors are changing the way that IT owns and operates datacenters.
Overcoming storage bottlenecks
I/O bottlenecks in primary storage can add significant latency to virtual applications, resulting in slow or unusable applications. This frustrates end users and creates numerous problems for IT, including unpredictable expenses and costs.
To date, the only option when faced with the above challenge is to throw storage hardware at the problem. For example, storage administrators can improve the capabilities of a storage area network (SAN) by upgrading interconnect speeds or deploying faster disks and processors. Unfortunately, these are all very expensive and disruptive solutions, and don't even guarantee an improvement in application performance.
Many companies are keen for a change. They want a solution whereby storage performance is decoupled from storage capacity, eliminating the need for unnecessary storage hardware upgrades. This has created an enormous market demand for server-side flash, which in turn has created a need for flash hypervisor software.
Why flash virtualization?
A flash hypervisor virtualizes all server-side flash into a clustered acceleration tier that enables IT to scale out storage performance quickly, easily, and cost-effectively, independently of storage capacity. Just like traditional hypervisors abstract physical CPU and RAM into a logical pool of resources, a flash hypervisor does the same for all server flash devices across a datacenter. 
More specifically, the flash hypervisor provides a resource management scheme that multiplexes multiple VMs to a set of flash devices according to user-specified policies. The result is dramatically faster and truly scale-out read and write performance for all virtual machines, without the need to change existing storage infrastructure.
Figure 1: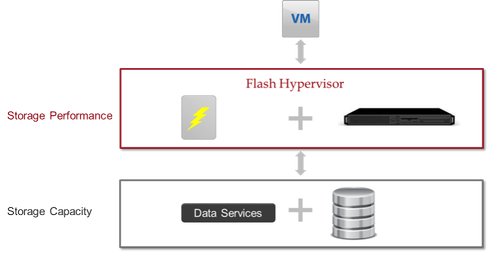 A flash hypervisor virtualizes server-side flash into a clustered acceleration tier that delivers scale-out storage performance independent of storage capacity.
Flash hypervisors fundamentally change datacenter design. Gone are the days when storage was designed with performance and capacity in one tier. For the first time ever, storage performance can cost effectively scale out according to demand. 
For example, a traditional midrange SAN costs about $100,000, and delivers around 50,000 I/O operations per second (IOPS). To double this performance, one must buy a new SAN, which doubles the total price to $200,000. In contrast, a flash hypervisor can deliver around 100,000 IOPS on a single flash device, which is twice the performance at less than one tenth the cost of the SAN (less than $10,000).
[For more background on how the software-defined trend affects storage, read: Software-Defined Storage: A Buzzword Worth Examining.]
To double the amount of IOPS, one must simply add another inexpensive flash device to the flash hypervisor cluster. The result is substantially higher storage performance at a fraction of the cost of a SAN alone.
What makes a flash hypervisor different from traditional server-side flash caching solutions? Below are the key criteria that make this technology unique, and that IT departments should evaluate in the context of their own environments:
Seamlessly works with all VMs, hosts, and storage
Supports heterogeneous flash devices (PCIE and SSD)
Cluster technology transparently supports all virtual machine operations, such as vMotion, DRS (Distributed Resource Scheduler) and HA (High Availability). This ensures virtual machines can move around freely between hosts without impacting application performance.
Supports read and write acceleration (with replication between flash devices for fault tolerance). This ensures that all read- and write-intensive applications will benefit.
Storage has long been a war-of-the-boxes, with marginal innovation. Flash hypervisor technology signifies a giant leap from the storage status quo. It brings a scale-out microsecond-level storage acceleration tier to every workload, in every virtualized datacenter. Its enterprise-class features and unparalleled benefits make it a strategic infrastructure investment that will fundamentally change datacenter storage design.
Jeff Aaron is vice president of marketing at PernixData, and has almost two decades of experience working in high-tech software, networking, and telecommunications companies.
We welcome your comments on this topic on our social media channels, or
[contact us directly]
with questions about the site.