Social networking giant builds its own switch that's designed to operate more like a server for better flexibility.
Facebook took another step towards what it calls a "disaggregated network," introducing an open, top-of-rack switch code-named Wedge running a Linux-based operating system code-named FBOSS.
"What we've done with our switch is take the software and split it into modules and take the hardware and split it into modules," said Jay Parikh, VP of infrastructure engineering at Facebook, in unveiling the switch Wednesday at Gigaom Structure in San Francisco.
The switch, he said, will provide Facebook with lower costs, but most importantly, flexibility. "We will be able innovate on these components and change things at a more rapid rate," he said.
Last year, Facebook launched an effort to develop an open, OS-agnostic top-of-rack switch through the Open Compute Project. The social networking giant started OCP in 2011, focusing on developing open designs for data center infrastructure components such as racks, servers and storage. The switch effort received open switch specifications [6] from Broadcom, Intel, Mellanox, and Accton, while Cumulus Networks and Big Switch Networks contributed software.
Conventional networking based on proprietary hardware and software presented an obstacle for Facebook, Parikh said. "We were running into things that slowed us down and didn't give us the flexibility we wanted," he said.
Parikh said the switch extends Facebook's focus on disaggregration -- breaking down data center technologies into smaller parts that provide more flexibility in handling workloads. Wedge, which is embedded with a microserver module, operates more as a server, he said.
Figure 1: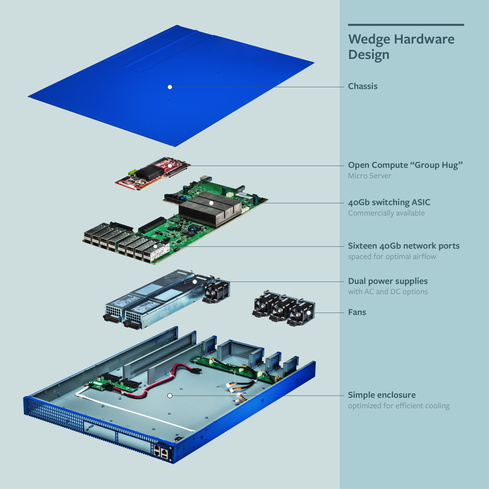 In a blog post [7], Facebook engineers Yuval Bachar and Adman Simpkins described Wedge and FBOSS -- which are being tested in the company's network -- as allowing Facebook to leverage its experience in running thousands of servers in its data centers. "In other words, our goal with these projects was to make our network look, feel, and operate more like the OCP servers we've already deployed, both in terms of hardware and software," they wrote.
"By using a real server module in the switch, we're able to bring switches into our distributed fleet management systems and provision them with our standard Linux-based operating environment," they added. "This enables us to deploy, monitor, and control these systems alongside our servers and storage -- which in turn allows our engineers to focus more on bringing new capabilities to our network and less on managing the existing systems."
Facebook plans to propose Wedge and FBOSS as contributions to OCP. Parikh said the design makes it easy for others to change it up as suits their needs. For example, Facebook's initial design has an Intel chip, but someone could use an ARM chip instead, he said.
"We expect lots of people to have ideas on how to make this thing better," he said. "We're not wedded to this, but we need to solve our problems. We can't let our business slow down because we can't find the things we need."
We welcome your comments on this topic on our social media channels, or
[contact us directly]
[8]
with questions about the site.