Microsoft adds video chat integration to Lync and Skype, touts emerging era of universal communications.
Unified Communications is dead. Long live Universal Communications. That was the message delivered Tuesday by Gurdeep Singh Pall, Microsoft corporate VP for Lync & Skype Engineering at the company's Lync Conference 2014 in Las Vegas. And Microsoft intends to usher in that new era, he said.
"Today, we can shut the era of unified communication and move on to the era of universal communications," Pall declared, adding that in the next decade, 1 billion people will use Lync, Skype, and other apps that make up the company's "universal communication" assets.
"That is the aspiration," he said.
[Are Android apps coming to Windows? Read Microsoft's Windows Strategy Gets Muddy [6].]
Microsoft faces strong competitors such as Cisco, Siemens, Google, and ShoreTel in the unified communication and collaboration market, which research firm IDC estimates will be worth $21 billion this year [7]. Lync is formidable in its own right; in September, the company said 90% of Fortune 100 companies use the product [8], and Pall said it is generating more than $1 billion annually.
Microsoft made several individual announcements, including video integration between Lync and Skype. The company also announced a Lync client will be available for Android tablets by this summer, adding to native apps that are available for Windows, Windows Phone, iOS, OS X, and Android smartphones. Microsoft also said Lync will soon be interoperable with Cisco Tandberg videoconferencing systems.
In sum, the announcements demonstrate the promise of retired CEO Steve Ballmer's "One Microsoft" strategy, which new CEO Satya Nadella appears to be broadly following [9]. Users might move from PCs to tablets to mobile phones to smart TVs, but Microsoft's UC interface, tools and user experience, as well as the users' cloud-stored data, move along with them.
Between Lync and Skype, Microsoft now "offers a platform that allows people to start a conversation anywhere and from almost any device, and to rely on a cloud service that connects them with anyone on the planet," Giovanni Mezgec, GM of product marketing for Lync and Skype, said in an interview.
Pall scoffed during his keynote at frequent criticisms that Microsoft is too proprietary. Though he said the company and its partners are building Lync-optimized products, he also emphasized that a cross-platform approach is essential to making Microsoft's UC products universally accessible.
Figure 1: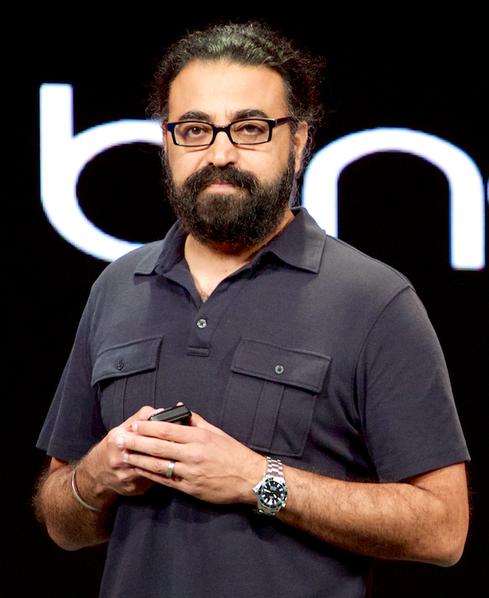 Microsoft Corporate VP for Lync & Skype Engineering Gurdeep Singh Pall.
He noted that 130 million people use Skype on Android and iOS. "The next time someone says Microsoft is not committed to other ecosystems, ask them how many hundred millions users they have running on Android," Pall said, adding that the company has released multiple updates across all platforms over the last year, and that 60% of U.S. enterprises have deployed or are deploying Lync.
"The world has changed. People expect us to ship soon ... and we are executing at a fast pace," he stated.
Mezgec said Microsoft recognized years ago, when most communications systems relied on expensive hardware, that a software-based approach could pay dividends. "We had to integrate different communication modalities -- email, fax, video conferencing, chat, telephony -- into a single experience, and [integrate] it into productivity tools people use every day, namely Office."
Indeed, Microsoft's cross-platform approach is still engineered to push users toward other Windows products. Outlook.com integrates Skype, for example, and the company demonstrated how Windows Phone APIs allow Lync to respond to voice commands. To a degree, "One Microsoft" recognizes that future Windows platforms won't achieve the near-monopolies of the PC era, and that it makes sense to move services to the cloud, and to make native apps available on all popular platforms. Microsoft's strategic challenge, as the ongoing absence of a native version of Office for the iPad attests, is when and how to embrace rival platforms while still giving Windows 8 and Windows Phone 8 a chance to grow.
It remains to be seen when iPad users will finally gain Office apps, and whether they'll need Office 365 accounts to use them, but in the meantime, Lync represents
Next Page [10]
another kind of cross-platform interoperability.
Because Microsoft will soon allow Lync to connect to Tandberg systems, many customers "don't have to choose," Mezgec said. "They can go with Lync, and go with an old system they still need to amortize."
Mezgec also said Lync and Skype represent Microsoft's ambition to spread its services across users' professional and personal lives. This appeal toward both consumers and enterprises users is a key (and in the case of devices such as the Surface tablets, controversial) aspect of the "One Microsoft" game plan [11].
In the context of the UC market, the approach appears to be paying off. Last year, Microsoft began integrating Lync with Skype, which the company bought in 2011 for $8.5 billion. The first wave of integrations enabled Lync and Skype users to contact one another, send instant messages and conduct audio calls. Video support wasn't included, but UC powerhouse Cisco was still evidently concerned by Microsoft's progress [12], as it argued before a European Union court that Microsoft's acquisition of Skype constituted a monopoly.
With Tuesday's announcement that video support is now in beta, Lync customers will soon have even more ways to communicate with 300 million worldwide Skype users-- including those who haven't purchased any Lync products. The company also demonstrated ways Bing and Lync can be integrated into websites for contextually aware chat functions.
"We have an opportunity with Skype to bring consumer and enterprise together," Mezgec said, noting that Skype and Lync now share a single engineering team. With people carrying mobile devices all the time, "there is not a clear separation between work and home," he said. "We want to provide experiences that are consistent and integrated for people anywhere they are."
Pall closed his keynote with a nod to the next few years, stating, in another echo of "One Microsoft" talking points [13], that machine learning and predictive technologies will become bigger parts of the communication and collaboration landscape. He said the company is currently experimenting with a technology that can predict who a user will call within the next five minutes, and that in the next decade, the accrual of more and more contextual data will allow for even deeper insights.
In a point that somewhat evoked his competitors at Cisco, Pall said video will be a major part of Microsoft's push. "People connect better with video," he stated, adding that Microsoft "has to enable video across everybody. Just as you can reach anybody with email, you be able to reach anybody with video."
Engage with Oracle president Mark Hurd, NFL CIO Michelle McKenna-Doyle, General Motors CIO Randy Mott, Box founder Aaron Levie, UPMC CIO Dan Drawbaugh, GE Power CIO Jim Fowler, and other leaders of the Digital Business movement at the InformationWeek Conference [14] and Elite 100 Awards Ceremony, to be held in conjunction with Interop in Las Vegas, March 31 to April 1, 2014. See the full agenda here [14].
We welcome your comments on this topic on our social media channels, or
[contact us directly]
[15]
with questions about the site.