IHS Infonetics survey finds that many enterprises plan to buy software-defined WAN technology with an eye on streamlining WAN operations.
Applying software-defined networking to the WAN is catching on in a big way in the enterprise, according to a new report from IHS. The market-research firm surveyed 150 North American businesses and found that 45% plan to spend more on SD-WAN over the next two years.
There's been a lot of buzz over the past year about SD-WAN technology, which promises to reduce the complexity and cost associated with enterprise WANs. SD-WANs provide enterprises with the ability to apply automation to the WAN and run traffic over a mix of public broadband, private MPLS and other types of links.
Enterprises are looking to SD-WAN as they adopt a variety of SaaS and other cloud services, Cliff Grossner, research director for data center, cloud and SDN at IHS, said in an interview. With increased cloud use, performance requirements to the branch office have grown and traffic is very dynamic, he explained. The MPLS links used in many WANs are expensive and time-consuming to provision.
"The traditional WAN architecture, where you typically connect branch offices to the corporate office, and have that corporate office be the gateway to the Internet, is kind of breaking down," he said.
"If you look at what SDN has been doing in the data center, bringing a lot of flexibility, that same concept is now being applied to the WAN," Grossner said. "We're creating virtual connectivity for the WAN controlled by an abstracted and centralized control plane, and putting a lot of automation into the enterprise WAN, allowing dynamic load balancing of the application across those physical connections."
According to the Rayno Report, the enterprise SD-WAN market could reach $7.5 billion by 2020. More than $360 million in venture capital has been poured into this market, Scott Raynovich, chief analyst and publisher of the Rayno Report, wrote in a blog post earlier this year.
There are several SD-WAN startups, including CloudGenix, Pertino, and VeloCloud, Viptela and Glue Networks. Others SD-WAN providers include Silver Peak and Cisco with its IWAN technology. Last month, CloudGenix said it raised $25 million in funding, bringing its total funding to $34 million.
"Based on their requirements and the new options available, it's really time that enterprises rethink their WAN strategy and buying decisions," Grossner said.
The IHS Infonetics enterprise data center study also found that 100 GbE deployments are growing at the expense of 40 GbE. "The demand for speed is insatiable," Grossner said, citing the surge in video traffic and interactive applications.
Figure 1: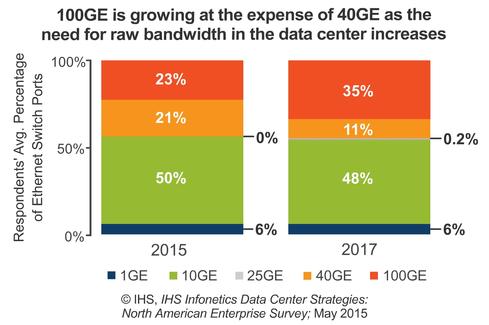 And while many of those surveyed by IHS are investing in SD-WAN technologies, 71% are planning to put software-defined storage products into live production, compared to just 15% today. Just as server virtualization and SDN have made compute and networking dynamic, respectively, software-defined storage brings agility to storage and completes the automation of the data center, Grossner said.
SDN market to surge
In a separate report, IHS forecast that the SDN market of Ethernet switches and controllers will reach $13 billion by 2019, up from $781 million in 2014. The availability of branded bare-metal switches -- or branded white-box switches -- from vendors such as Dell and HP have helped drive SDN growth among enterprises and small cloud service providers, according to IHS.
While it's still early days for the SDN market, and market-share leaders will change frequently, the current leaders are Dell, HP, VMware and white-box suppliers, according to Grossner. In 2014, the leader in controller revenue was VMware, he said.
He predicted that SDN will "cross the chasm" next year, with SDN in-use physical Ethernet switches accounting for 10% of Ethernet switch market revenue.
We welcome your comments on this topic on our social media channels, or
[contact us directly]
with questions about the site.