Microsoft's Symon Perriman explains why and how you can influence your networking vendors to provide products based on interoperable SDN standards.
You may not realize it, but you can help the software-defined networking (SDN) movement a great deal. The biggest way you can do this is by influencing your vendors to provide SDN solutions that are extensible and that support open standards for interoperability.
As you may recall from the second post in this series, multiple SDN protocols have been submitted to the Internet Engineering Task Force (IETF), the Internet standards organization. Stateless Transport Tunneling (STT) is an encapsulation protocol from Nicera, a company that was later acquired by VMware. Virtual eXtensible Local Area Network (VXLAN) is a tunneling protocol supported by VMware, Cisco, Citrix, and Red Hat.
Network Virtualization using Generic Routing Encapsulation (NVGRE) is another tunneling protocol supported by Microsoft, Intel, HP, and Dell. A few companies have even contributed to multiple protocols, making it tough to predict which products using which protocols will come out ahead in the end.
Keep in mind that there are real people building these networking technologies, and it is often the product engineering team that decides which protocol(s) to use and interoperate with. Microsoft's networking teams have several hundred engineers whose day-to-day job it is to enhance data center networking capabilities in Windows Server, System Center, and Microsoft Azure.
These network architects, developers, and testers are passionate about what they are doing, and have a desire to solve real-world problems and provide the best possible solutions to the industry. They want to hear what is important to their customers, and you can influence them by providing your feedback to make the products better. You need to demand extensibility and interoperability as a critical requirement.
Without this commitment from networking vendors to support integration, you may get "locked in" to a protocol that doesn't provide the capabilities that your applications need. In the animal world, there is a dichotomy in the social behavior of different species of ants. Some ant colonies live in isolation and attack ants from other colonies, whereas social ants will connect their colonies together to form "supercolonies."
The most notable social ant is the Argentine Ant. This type of ant thrives with multiple queens of different species; the largest colony in southern Europe stretches over 6,000 kilometers (3,700 miles). The nests of isolated ants do not last as long, because they often die off when their colony is threatened by other animals or humans. And, since they lack genetic diversity, they are more prone to being wiped out by disease.
You want to support vendors that are like the Argentine Ant, which is trying to grow and connect different systems. Avoid vendors like isolated ants, so your networking investments do not get wiped out along with them.
Figure 1: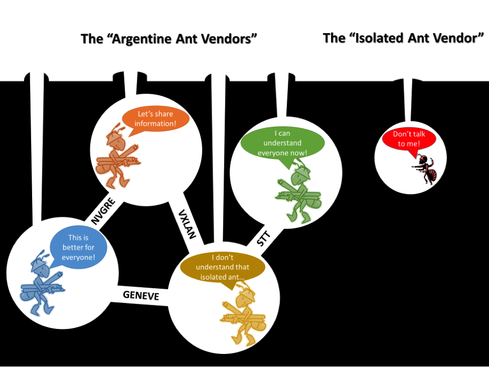 The good news is that most large SDN vendors (such as Microsoft, VMware, Cisco, Dell, and HP) have realized that segmented and incompatible networks will be disadvantageous for everyone, and have submitted drafts for interoperable standards that span multiple protocols, like Generic Network Virtualization Encapsulation (GENEVE) and the ACI OpFlex Protocol.
In order to influence your vendors, you need to establish a communication channel with them. First, determine which protocols your current and potential networking vendors support. Track which vendors are using closed or proprietary protocols, and which are participating with industry standards groups like the IETF, the Open Networking Foundation (ONF), Distributed Management Task Force (DMTF), and the OpenDaylight Project.
Unfortunately, some networking vendors do not have the resources to actively participate in these projects nor commit to supporting open standards. These are the vendors that are most important for you to influence so they will support an interoperable networking ecosystem.
It can be challenging to find a contact at these companies that can share your feedback with engineering. If your organization already has a relationship with the vendor, start by checking your internal purchasing or procurement teams for a contact. If you do not have a contact, then browse the vendor's website for sales inquiries and connect with a sales representative. If you want to avoid the sales route, try to find someone from the company in a public-facing role that gives presentations, such as a product manager, community lead or evangelist. Usually these people will have a way to contact them publicly through Twitter, LinkedIn, Facebook, or other social media.
Once you have established your feedback channel, request interoperability and justify it with real-world scenarios. Most engineering teams reference these customer examples when deciding which features to implement, as is provides supporting evidence that customers actually need and will use this capability.
The industry is clearly moving to a model of interoperability, so if a vendor chooses to ignore their customers and continue using closed protocols, they're going to be left behind. To summarize the final lesson in my SDN series, Symon says to demand that your networking vendor supports interoperability and connects their networking solutions to the rest of the world, just like the Argentine Ant!
We welcome your comments on this topic on our social media channels, or
[contact us directly]
with questions about the site.