While other workers enjoyed traditional summer vacations, IT pros toiled away to keep the network running, an Ipswitch survey finds.
With Labor Day approaching, many workers are gearing up for fall, refreshed from their summer vacations. But a lot of IT pros never got to enjoy summer downtime, according to a survey from Ipswitch.
The company, a supplier of network and server monitoring tools, polled 239 IT pros in the US and found that many were busier than ever, dealing with an influx of workers accessing the network remotely. One-third of those surveyed said nearly half of their network's users worked remotely during the summer.
According to Ipswitch, most organizations see a significant expansion in the number of remote workers during the summer months, which can make life more difficult for network managers and system administrators. Indeed, 42% reported malfunctioning laptops as the most common user problem during the summer, and 33% cited remote connectivity issues as the top problem.
Adding to the burden of a busy summer while others enjoy time out of the office, organizations place more restrictions on IT pros' vacation time, according to the survey. One quarter of those polled said vacation time was more restricted for the IT team than other departments in their organization. And even when they do get time off, 28% said they'll remain stressed about the state of their network while they're away.
Check out the infographic below for an illustration of the Ipswitch "Summertime Blues" survey findings. Do they resonate with you? Let us know in the comment section.
Figure 1: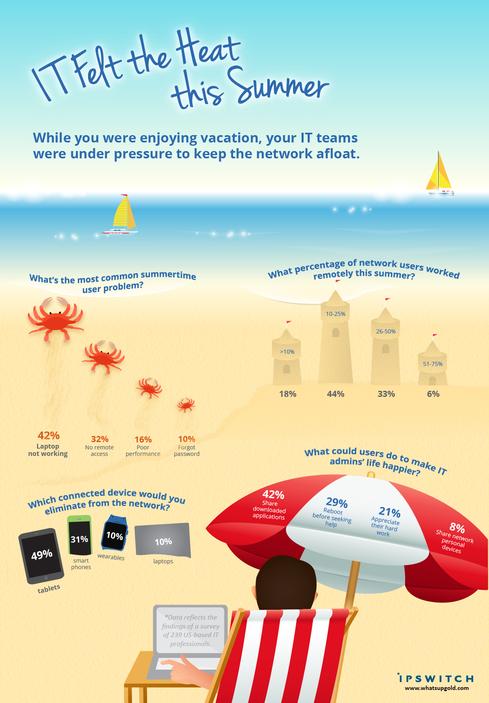 We welcome your comments on this topic on our social media channels, or
[contact us directly]
with questions about the site.