With help of Extreme Networks, the National Football League is probing app- and data-usage patterns as teams network their stadiums.
What could be better than watching the big game from your own couch on a high-definition TV with your choice of snacks and adult beverages? Would-be ticket buyers are asking this very question, so the National Football League and many of its 32 teams are pulling out all the stops to provide a better experience for fans who make it to the stadium.
Free WiFi access is just one perk that the NFL wants teams to provide. On Thursday Extreme Networks announced that it had been selected as the official WiFi analytics provider for the league and Super Bowl XLVIII. Extreme Networks clinched the deal due in part to successful deployments of its WiFi network infrastructure and analytics software by the New England Patriots and Philadelphia Eagles.
"Enhancing the fan experience is one of the NFL's top priorities and the decision to team up with Extreme for WiFi analytics is a great step forward," said NFL CIO Michelle McKenna-Doyle in a statement. "We were impressed with Extreme's implementations with the Patriots and the Eagles, and we believe this agreement will help our clubs give our fans the type of experience they deserve."
[Want more on state-of-the-art "fanalytics?" Read 4 Analytics Lessons From Professional Sports.]
Just how does WiFi enhance the football experience? For starters, most teams have a game-day app with integrated video capabilities. Fans can call up instant replays on demand and they can also check out the view from specific cameras throughout the stadium. Fans can also use NFL Red Zone app capabilities to watch highlights or even other games. Some of these apps also let you order food and beverages from your seat.
So what will the NFL and individual teams learn from WiFi analytics? The possibilities are just beginning to be explored, according to Mike Leibovitz, Extreme Networks' director of mobility and applications. "Right now [the league] is trying to ensure that fans can get onto the network and then see the different types of devices that are on the network, whether that's Apple or Android and so on, at what times during the game," Leibovitz told InformationWeek in a phone interview.
Future uses will include pattern analysis of which apps and capabilities are being used at which times during the game and where within the stadium, whether they are NFL apps, team apps, or mainstream social apps such as Twitter or Facebook. These insights could be used to make decisions about concession service levels, promotions, or game-time advertising, and Leibovitz insists it's about anonymous, aggregate analysis, "not snooping on people."
Figure 1: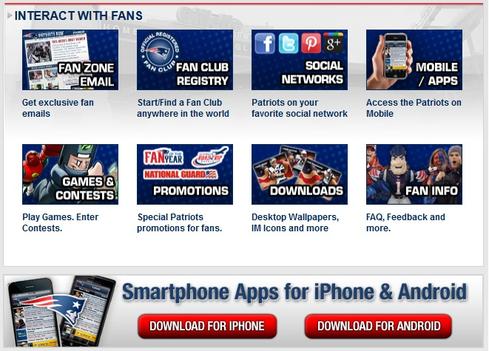 Of course fans can also rely on their mobile networks for connectivity during games, and some mobile networks offer their own analytic capabilities. Precision Marketing Insights from Verizon, for example, offers browser and in-app targeted mobile advertising. Because a mobile network provider has data on its subscribers, it can also target by zip code, demographics, and interest attributes.
The appeal of WiFi networks is that fans get free, capacious bandwidth, while teams and the NFL own the data and the insights. "Even with LTE connectivity, mobile networks simply can't provide the capacity that's required," Leibovitz said.
Only about a third of NFL stadiums are currently equipped with WiFi. Extreme Networks also provides its analytics software -- though not the WiFi infrastructure -- used at the Detroit Lions' Ford Field and at MetLife Stadium, site of the upcoming Super Bowl. NFL's "official" designation means that Extreme Networks' analytics software will be used in all WiFi-equipped stadiums. The company's WiFi infrastrucutre is recommended to teams installing WiFi in their stadiums, but it is not the only hardware teams can choose.
Doug Henschen is executive editor of InformationWeek, where he covers the intersection of enterprise applications with information management, business intelligence, big data, and analytics. He previously served as editor-in-chief of Intelligent Enterprise, editor-in-chief of Transform magazine, and executive editor at DM News.
Interop Las Vegas, March 31 - April 4, 2014, brings together thousands of technology professionals to discover the most current and cutting–edge technology innovations and strategies to drive their organizations' success, including BYOD security, the latest cloud and virtualization technologies, SDN, the Internet of things, Apple in the enterprise, and more. Attend educational sessions in eight tracks, hear inspirational and industry-centric keynotes, and visit an Expo Floor that brings over 350 top vendors together. Register for Interop Las Vegas with Discount Code MPIWK for $200 off Total Access and Conference Passes.
We welcome your comments on this topic on our social media channels, or
[contact us directly]
with questions about the site.