Interop welcomes some of the most respected and brightest minds in the IT industry as Track Chairs for its educational program.
It may be approaching the short, cold days winter -- at least in the Northern Hemisphere -- but here at UBM things are really heating up as we plan Interop Las Vegas 2016. Celebrating its 30th anniversary, next year's Interop has been retooled around the future of the network, making the most of the network and related technologies to build business success, and advancing the careers of the people who run it.
Networking is changing quickly and only becoming more integral to modern business applications and services. The Interop Expo floor will demonstrate that in action, showing real examples of environments like healthcare and manufacturing and highlighting innovative use cases. The conference program will reflect that same excitement. While it will offer the best practices and tutorial content attendees have come to expect, it will also include more strategic content to help IT pros envision the potential of emerging technologies in their own businesses.
In order to create that content, Interop works with several Track Chairs from outside its organization who provide an objective view into the issues the conference program should cover and what is important to attendees. Track Chairs have detailed understanding of the challenges, opportunities, and emerging technologies in their specialties and use this to identify the best topics and subject matter experts to teach and present.
As the content director for Interop (as well as the editor here at Network Computing) I am excited to welcome eight new track chairs to our team. These technology experts represent some of the most respected and brightest minds in the industry, and will bring their extensive experience to bear developing Interop's educational content. UBM editors Tim Wilson, Susan Nunziata and Eric Krapf will also return to create excellent programs in information security, IT leadership and collaboration. In addition, we'll be partnering with many audience favorites, including Ethan Banks, Greg Ferro and Ivan Pepelnjak, for special programs (more to come on that front).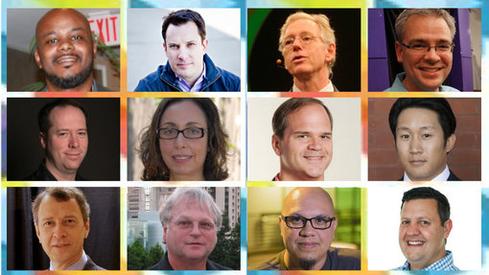 Our illustrious lineup of Track Chairs includes:
Keith Townsend -- Applications
@CTOAdvisor
Technology blogger and enterprise architect Keith Townsend joins us to explore the inventive ways businesses are making use of advanced networks and technology to serve their customers and employees. As a veteran of PwC and Lockheed Martin and founder of thectoadvisor.com, Keith understands the business value of technology and how to connect the dots between IT and the C-suite.
Brian Gracely -- Cloud Connect
@bgracely
Brian is widely recognized for his award-winning podcast The Cloudcast, a program that has been helping IT practitioners look behind the hype of the cloud and deal with the real changes in IT environments since 2011. He has worked at Cisco, Linksys, NetApp, Virtustream and EMC, and is very active in the IT community. Currently an independent consultant, Brian will help attendees face the challenges of the cloud and determine how to deploy private, public or hybrid cloud for existing and cloud native applications. 
Eric Krapf -- Collaboration
@EricHKrapf
Eric returns to provide grounding in the communications infrastructure issues that enterprises are dealing with today, along with forward-thinking perspective on the collaboration environments that better facilitate business. Eric serves as general manager of the Enterprise Connect conference and editor for the website No Jitter, and is known as one of the most authoritative voices in the collaboration industry.
Stephen Foskett -- Networking
@SFoskett
Stephen is a fixture in the world of enterprise information technology, with an extensive technology background that has culminated in founding the popular Tech Field Day events. An expert in enterprise infrastructure, Stephen will lend his skills to developing content around networks as the enabler of IT and how leveraging network resources can extend your company's capabilities and create new opportunities.
Tom Hollingsworth -- Networking
@networkingnerd
Tom is a former VAR network engineer with extensive experience working with primary education and real-world technology challenges. Author of the The Networking Nerd blog and organizer for Tech Field Day, Tom has his finger on the pulse of the IT community. He'll bring that expertise to the table developing content for the Networking Track.
Susan Nunziata -- IT Leadership
@SusanNunziata
Susan is an experienced IT and entertainment journalist and currently serves as director of editorial for InformationWeek. In this capacity she works closely with industry experts and CIOs to provide insight and advice for IT executive navigating their careers in the information age. Susan's track at Interop will examine methods to transform their IT organizations into the leaders of innovative products and platforms, competitive advantage, and digital businesses.
 Tim Wilson -- Security
@darkreadingtim
Information security is one of IT's most complex and dynamic challenges. As the editor-in-chief and co-founder of Dark Reading, Tim is recognized as one of the top cybersecurity journalists in the US and was named one of the 50 Most Powerful Voices in Security. Tim will provide insight into progressive strategies for protecting data and networks and examine the changing needs of security as enterprise infrastructure expands across the cloud, the Internet of Things, and the Internet-enabled economy. 
Vincent Liu -- Security
Vincent is a partner at Bishop Fox, an information security consulting firm providing services to the Fortune 500, global financial institutions, and high-tech startups. He also served on the security teams at Honeywell, Ernst & Young and the National Security Agency. The co-author of seven security books including several industry best sellers, Vincent will bring a wealth of experience to Interop's Security Track.
Eric Hanselman -- Software-Defined Networking
@e_hanselman
Eric is the chief analyst at 451 Research, boasting extensive industry experience and hands-on understanding of a broad range of IT subject areas, including networks, virtualization, and security. In the SDN Track, Eric will delve into the emergence of software-defined networking and the drastic changes that go along with it. He will explore when enterprises should consider SDN, how to evaluate competing technologies and products, where implementations are achieving success, and how to overcome the operational and cultural challenges.
Greg Schulz -- Storage
@StorageIO
As founder and senior analyst of the consultancy Server and StorageIO, Greg is one of the most recognizable names in the storage industry. He has also authored several books and brings many years of experience in large IT environments to the table. Greg will help IT organizations understand the new technologies available in storage -- including flash, cloud storage, software-defined storage, and converged and hyperconverged infrastructure -- and evaluate how and why they might fit into their enterprise storage strategy.
James Bowling -- Virtualization & Data Center Architecture
@vSential
James is a cloud infrastructure architect who currently works in the VAR space designing and implementing large-scale virtualized infrastructures. A leader in the social media realm as well as in person, James is co-organizer of the Dallas-Fort Worth VMware User Group. James will develop content to help IT pros understand, operationalize and manage virtualization and cloud, and delve into emerging technologies like containers and hyperconvergence.
Drew Lentz – Wireless & Mobility
@wirelessnerd
Drew is a highly experienced wireless network and applications engineer with a background in core network fabric and a focus on wireless strategies. As co-founder of Frontera Consulting, he specializes in creating technology platforms for enterprise businesses, municipalities, utilities, law enforcement and educational facilities. Drew's work with Interop will help IT practitioners transition from pockets of wireless LANs to a pervasive mobile environment that not only provides improved internal communications but facilitates new business prospects in the coming IoT.
Interop is thankful for the contributions of all the Track Chairs and proud to have them affiliated with the conference. We'll be providing more information on specific sessions, speakers, and agenda items as the program develops, so stay tuned.
We welcome your comments on this topic on our social media channels, or
[contact us directly]
with questions about the site.