As IT pros with deep mainframe know-how approach retirement age, a major skills gap may await enterprise CIOs that still rely on the decades-old technology.
The sharpest young gun in your IT shop might have a precocious set of in-demand skills, from cloud computing to mobile development to Hadoop and other big data platforms. But ask them to find their way around a mainframe, and they'll likely say: "A what?"
Keith Kohl, director of product management at Syncsort, recently encountered this firsthand when speaking with a group of Hadoop pros. "They understood Hadoop, they understood big data, they understood distributed -- like Linux -- systems," Kohl said in an interview. But there was a notable gap in the group's collective expertise. "It became apparent they didn't even know what a COBOL copybook is, which is absolutely required for mainframe data -- it's one of the most common schemas for mainframe files. They don't even understand how to get the structure of mainframe files and use that to ingest mainframe data into Hadoop [or elsewhere]."
While you might not find the mainframe much in today's startup environments, many longstanding enterprises still rely on the machines, which date back to the 1950s. That's especially true in sectors such as banking and financial services, healthcare, retail, and telecommunications, according to Kohl. The lack of mainframe experience among younger generations of IT pros could become a pressing problem for CIOs in those and other fields in the not-so-distant future.
[For another perspective on how to stay relevant in IT, see Network Engineers: Don't Be The Dinosaur.]
"The people that do run the mainframes are starting to retire," Kohl said. "It's not uncommon for the systems programmers, the mainframe developers [and] architects, to have been in their jobs for over 30 years, 35, even 40 years -- which is getting up there."
The underlying problem with aging mainframe pros: There's no army of youngsters eager to fill their vacant seats. As a result, companies that still depend upon the mainframe might soon find it near impossible to hire the right people necessary to support legacy applications, transaction processing, and other related functions.
Figure 1: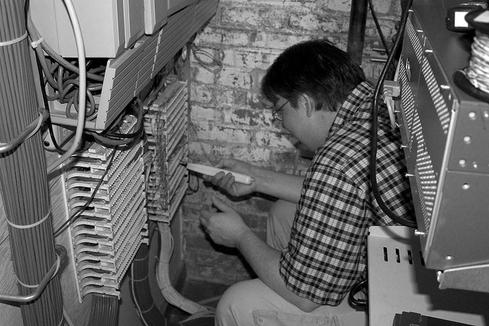 Image credit: Sam Beebe on Flickr.
"If I'm a bank or a financial institution and every trade or ATM transaction goes through a mainframe system, how do I maintain that? That's a huge risk," Kohl said. "If I'm a health insurance provider and every claim goes through the mainframe, how do I keep those systems up and running?"
In a recent Compuware survey, two-thirds of CIOs said that retiring mainframe talent will hurt their business in the form of increased application risk, lower productivity, and more project overruns, among other potential headaches. Most of the CIOs surveyed (81%) believe the mainframe will remain an important part of their business for at least the next decade.
Kohl pointed to two primary causes of a pending mainframe knowledge gap. The first is simply an image problem: Mainframes aren't cool these days, nor is COBOL or job control language (JCL), two core programming languages underpinning mainframe development. It's much hipper to have the likes of Hadoop on your IT resume. By comparison, mainframe skills don't seem to look as good -- even though they remain relevant to many employers.
The second is a corresponding lack of education and training opportunities. Kohl believes the mainframe is disappearing from university curricula and other training programs. Anyone with an Internet connection can immediately begin taking classes in Python or Java from the likes of Udacity, Udemy, and Codeacademy. Good luck finding a COBOL course on those sites.
Kohl believes the solution will come from a coordinated effort among enterprises, vendors, and universities and other educational organizations to develop the next generation of mainframe skills -- and to promote those skills as sought-after among hiring managers. That effort may have a ways to go: Of the CIOs included in the Compuware survey, 40% said they haven't taken any formal steps to mitigate a potential mainframe brain drain. That's only a modest improvement from 2011, when 46% of IT chiefs in a similar survey said they'd done nothing to plan for a mainframe talent gap. Kohl's optimistic that the industry will eventually move to reinvest in mainframe skills development, but his glass is half full, in part as a matter of necessity.
"The industry, from an IT perspective, has to do it," Kohl said. "All of these really vital, mission-critical systems have to be up and I've got to maintain them."
Could the growing movement toward open source hardware rewrite the rules for computer and networking hardware the way Linux, Apache, and Android have for software? Also in the Open Source Hardware issue of InformationWeek: Mark Hurd explains his "once-in-a-career opportunity" at Oracle.
We welcome your comments on this topic on our social media channels, or
[contact us directly]
with questions about the site.