GNS3 began as a Cisco emulation tool, but has grown into a multi-vendor network simulator with a collaborative community.
If you're a networking professional, you're probably aware of the network simulation platform GNS3, which was built on the Dynamips program for emulating Cisco routers. But there's a lot more to today's GNS3. 
The software derives its name from the Graphical Network Simulator that university student Jeremy Grossman built on top of Dynamips, creating an intuitive user interface to design and configure networks. Network professionals flocked to the environment as a means of testing, learning, and preparing for certification exams, with more than 2 million users downloading the software 11 million times since its launch in 2008, says the company.
Welcome to the Jungle
GNS3 consisted of Grossman and cofounder Stephen Guppy for several years. About two years ago, said Guppy in an interview, the pair re-examined whether GNS3 had the potential to be something big, and discovered the user base was extremely vibrant and diverse, working in companies like Exxon, Walmart, AT&T and NASA. Since then the company has pulled out all the stops, holding a record-breaking crowdfunding campaign, rebuilding the technical platform, and, most recently, deploying the GNS3 Jungle.
The Jungle adds community functionality to GNS3, allowing networking pros to engage with their peers and the companies that develop the products and services they use on a daily basis. It attracted more than 125,000 members in its first 60 days, and has sustained an 18% weekly growth rate since launch.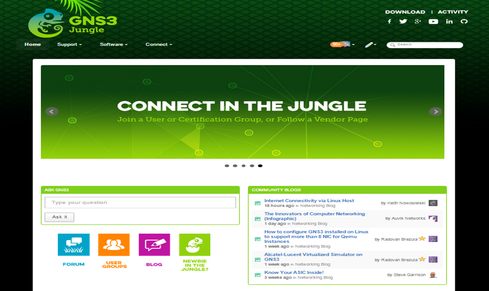 Rather than building the collaboration technology themselves, Guppy and Grossman chose the Jive-x platform from Jive Software -- which also runs SolarWinds' popular community, Thwack -- as the basis for the environment, Guppy said. That's been essential to the community's success because they are able to tailor it to the needs and requests of users without time-consuming development efforts.
"Jive-x is basically a plug-in system; you just plug and play, drop in modules, and away you go," Guppy explained. Before public launch, the GNS3 invited power users to try out the platform and offer feedback. "They just went in and ripped it up, tore it apart, and told us exactly what they wanted out of it." Within three days, the team completely revamped the entire platform, which would not have been possible with a proprietary system.
The Jungle continues to adapt, "growing almost organically with the way people are using it," said Guppy. And the ease of making updates allows the team to focus on expanding services in other areas where they see user interest, such as SDN. Guppy said they have observed a large knowledge gap among networking pros when it comes to SDN, and explained that the Jungle provides a forum for SDN vendors to educate users about their platforms and products. As an added bonus, members can then use the GNS3 emulation software to implement and test these new technologies, he added. 
New goals, new code
Although GNS3 began as a Cisco-centric tool, the network professionals in the Jungle are increasingly interested in investigating vendors other than Cisco. In fact, the GNS3 platform has witnessed between 25% to 45% decline in Cisco usage year over year in favor of Arista, Juniper, HP, Alcatel, and Extreme, Guppy said.
GNS3 has been integrating with more vendors over the years, and the new version of the emulation software, launched in October, allows for additional vendor participation. Jeremy Grossman rewrote the code from the ground up, explained Guppy, to ensure the platform was agile and could support the aggressive roadmap they have planned for it.
Those plans include more focus in the areas of SDN and security, cloud processing technology including on-demand configuration and limitless scalability, and the ability for network teams to collaborate on projects. Integrating with additional technology and technology partners is also key, said Guppy. He noted that the new Cisco VIRL platform is often compared to GNS3, but that GNS3 has the capability to give a comparable platform to any of its partner vendors almost overnight.
We welcome your comments on this topic on our social media channels, or
[contact us directly]
with questions about the site.