IoT technologies solve business problems and generate new revenue, but implementing them is a complex task. Here are three ways to approach IoT.
When we talk about the Internet of Things (IoT), we usually talk market size, because it's enormous -- billions of units are generating more than $1 trillion in revenue today. And analysts forecast that revenue will double by 2015.
Those are exciting numbers, but what benefit does the IoT deliver? For businesses, it is twofold. First, it unlocks the value of assets, such as medical devices or industrial printers, to generate new services and revenue streams. Second, it helps turn data into information for better decision making.
[Sensor-equipped objects and their networks will reshape your life. Read CES 2014: Cisco's Internet of Everything Vision.]
However, you must overcome looming challenges before the IoT can be fully realized. A lack of unified standards is preventing widespread adoption, and scaling is difficult, because vertical industry applications like medical devices and industrial controls have little or no overlap.
Complexity is also an issue. The technologies involved in creating intelligent connected systems are broad, and it can be difficult to know where to start or what technology is best for specific needs. Most IoT products do not provide a seamless experience between the business backbone and the embedded device or system out of the gate. Some complex customization is required. For example, a legacy device that is not connected to the Internet may use proprietary protocols to communicate with an internal network over a wired connection. The company would need to customize the IoT setup to support that proprietary protocol and provide wireless connectivity to the Internet.
Businesses are also coming to terms with the fact that, to create an end-to-end IoT experience, they typically need assistance from partners that may not be a part of their current ecosystem.
With all that in mind, where do you even begin? Here are three tips for approaching and implementing the IoT.
Get to the heart of the business problem
Different companies and industries have different perspectives on the opportunities created by the IoT, but all are looking to scale efficiently, increase average revenue per device, and set themselves apart from the competition while responding to the needs of the business. So where does your company fit in, and what's the first step?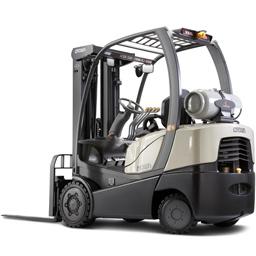 Smart forklifts use Internet-connected sensors to collect usage and location data.
If you're starting from scratch, it's important to ask, "What's the No. 1 business problem you want to solve?" Once that's answered, it's time to look at the systems you need to connect and the capabilities you must put in place.
The IoT is shaking up traditional business models, but the technology itself is just the enabler. It's the new business models that will be transformational. For example, the Internet is now reaching beyond IT departments and traditional Internet-enabled devices. Though technology is spurring these new connections, business models across industries will also change as they adjust to the new realities of what can be delivered in everything from city-wide transit systems to smart homes. The business models themselves are changing, and IoT products will help with that shift.
We welcome your comments on this topic on our social media channels, or
[contact us directly]
with questions about the site.