Uptime Institute's Server Roundup gives a big "yee-haw" to companies that strap on their spurs, decommission obsolete equipment, and drive out datacenter inefficiency.
The datacenter is no place to waste space or money, but idle IT equipment and antiquated processes are hiding in plain sight in even the most sophisticated IT organizations. Outmoded IT equipment, servers abandoned by application owners, and inactive users represent a double-threat in terms of energy waste -- squandering power at the plug, but also wasting datacenter facility power and capacity.
According to Uptime Institute's estimates based on industry experience, around 20 percent of servers in datacenters today are obsolete, outdated, or unused. That percentage may be just spittin' in the wind.
The New York Times reported that in an audit sample, database giant LexisNexis found that 50 percent of its servers were comatose. Similarly, when the insurance firm Sun Life took back management from an outsourced IT firm in 2011, it discovered 40 percent of its servers were doing absolutely nothing.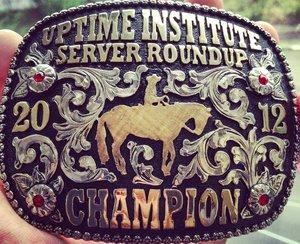 Hog-tying (or decommissioning) one rack unit (1U) of servers can result in a savings of $500 per year in energy costs, an additional $500 in operating system licenses, and $1,500 in hardware maintenance costs. But reaping those rewards is no easy task.
As early as 2006, Uptime Institute Founder Ken Brill identified comatose servers as one of the biggest opportunities for companies to improve overall IT energy efficiency. While Brill advocated for industry action on this issue, he also cautioned, "Nobody gets promoted for going around in the datacenter and unplugging servers."
Datacenter professionals formerly had no incentive to remove comatose machines. IT executives lacked insight into how idle IT equipment was affecting their costs, since their departments do not pay the datacenter power bill. 
This points to a consistent challenge facing the datacenter industry: the corporate disconnect between IT and facilities operations. In order to implement an effective server decommissioning program, datacenter managers need to overcome that organizational barrier and get executive level buy-in.
This is why Uptime Institute invited companies around the globe to participate in the Server Roundup, a contest to promote IT and facilities integration while improving datacenter efficiency. In honor of driving the riff-raff out of the datacenter, winners receive commemorative rodeo belt buckles. They also have the opportunity to present at the annual Uptime Institute Symposium.
In 2012, Uptime Institute awarded AOL and NBC Universal as the inaugural Server Roundup champions. Results in 2013 were even more impressive, corralling twice as many unused resources as the previous year.                 
AOL cowboyed up again in 2013 (see the re-enactment in the video below), winning for overall tally of servers removed. The web services company decommissioned 8,253 servers in 2012 (after removing nearly 10,000 the year before). This resulted in a gross total savings of almost $3 million from reduced utility costs, maintenance, and recovery of asset resale/scrap. AOL was also able to reduce more than 16,000 tons of carbon emissions.
The global financial organization Barclays also received a 2013 award for removing 5,515 obsolete servers the prior year. The company achieved power savings of around three megawatts, $3.4 million annualized on its utility bills, and a further $800,000 savings in hardware maintenance.
Contest finalists TD Bank, McKesson, and Sun Life Financial also removed and recycled nearly 2,000 servers. Since Server Roundup's launch two years ago, participants have decommissioned and recycled 30,000 units of obsolete IT equipment.
The 2014 Sever Roundup is currently open and accepting applications. If your company is rodeo champion material, visit the contest page for more information. Hike up your Wranglers, unhitch your horses, head 'em up, and move 'em out!
We welcome your comments on this topic on our social media channels, or
[contact us directly]
with questions about the site.