UNH-IOL plugfest produces list of interoperable combinations of networking gear based on Open Compute Project specs.
If you've been eyeing open networking but remain skeptical, operators of a testing initiative at the University of New Hampshire Interoperability Lab hope to convince you otherwise.
The UNH-IOL recently published an Open Networking Integrators List, a public directory of validated, interoperable combinations of networking gear based on specifications from the Open Compute Project. The list shows the results of interoperability and conformance testing of networking products that started in earnest with an open networking plugfest at the lab in September.
Devices tested included 10 and 40 Gigabit Ethernet switches, network operating systems, optical modules, active optical cables, and direct attached copper cables. Twelve vendors participated, including Big Switch Networks, Cumulus Networks, HP, Accton, 3M, and Mellanox.
The testing, which is ongoing, is a collaborative effort between UNH-IOL and the OCP Networking Project.
David Woolf, UNH-IOL senior engineer for data center technologies, said the Open Networking Integrator's List is designed to boost confidence in open networking by proving that the components work together.
"The list will give people the information they need to encourage them to take a serious look at open networking," Woolf said.
Data center network operators taking advantage of the list will still have to do their own hot staging before deploying and running their applications on the tested systems, but they'll have the assurance of interoperability, Woolf said.
The testing process for the list includes making sure a NOS can be installed on a white-box switch using OCP's Open Network Install Environment (ONIE), then running two identical switches with the same NOS, connecting them using a single type of pluggable module and running traffic to look for dropped packets and other issues.
Figure 1: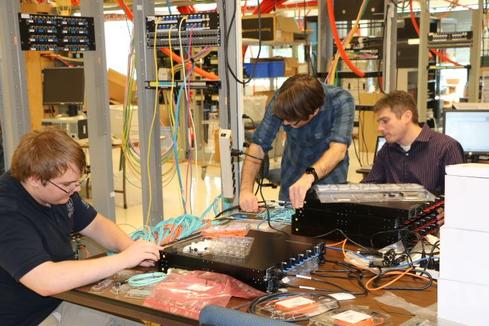 Open Networking Plugfest at UNH-IOL
While there will always be customers who want to buy traditional, pre-integrated networking systems, some data center network operators want the ability to customize their networks, Woolf said. Building an open networking system can reduce costs because users can buy components directly, he added.
"The tradeoff is there's more work on the integration side," he said. "Some want to do that engineering themselves -- they want to be able to customize. This allows them to do that."
With the OCP, the UNH-IOL formed an Open Networking Test Services Consortium to coordinate and support ongoing interoperability testing. Membership is open to vendors and others interested in open networking and provides access to the test services and participation in plugfests.
Woolf said more than 100 combinations can be built with the network equipment submitted for the September plugfest; those couldn't all be tested during the plugfest but testing is continuing. And more combinations will be available as more products are added to the lab.
In a blog post earlier this month, Omar Baldonado and Carlos Cardenas -- co-chairs of the OCP Networking Project -- said it plans broader testing with more OCP hardware and software, along with non-OCP networking gear.
"While we're focused on disaggregating and opening up networking on the OCP Networking Project team, we plan to focus more on the integration process so the community can more easily piece those disaggregated components back together," they wrote.
The OCP Networking Project is one of eight groups in the OCP Foundation, which Facebook launched in 2011 focusing on developing open designs for data center infrastructure components. 
We welcome your comments on this topic on our social media channels, or
[contact us directly]
with questions about the site.