Devices don't connect to the Internet to see what their friends are posting on Devicebook. They're exchanging data and performing tasks via a well-understood paradigm -- applications.
There's a lot of buzz these days about the -- forthcoming, already here, arriving between 2013 and 2017 -- Internet of Things. Along with that buzz come statistics -- particularly from networking expert Cisco, which predicts that billions of devices will connect to the Internet in the next few years.
No one disputes that because it's obvious. From wearables and Internet-enabled televisions to smart pens and children's toys, the growth of the Internet of Things seems like an inevitable conclusion.
What's not so obvious: How the IoT is going to impact businesses and datacenters. Much air time is given to the increase in data and traffic, but very little focuses on exactly what all these "things" are talking to -- and just as importantly, how they're communicating.
The answer, of course, is that the Internet of Things is about applications, on both the device and the back end. Applications on appliances, in the cloud, in the datacenter. Applications here and there. Applications everywhere.
[Items from pills to power plants will soon generate billions of data points. See how the IoT will change your industry -- attend the half-day Internet of Things summit at Interop.]
Enabling "smart" products involves more than just the applications that manage that device's data. It requires apps that track activation, perform licensing, manage billing and subscriptions, and more. These support applications are hidden; they are not visible manifestations of a product that interacts directly with consumers, but rather the support system that enables it.
You must start preparing the datacenter now for the inevitable explosion. If you focus on only the top layer of applications, you'll miss out on the supporting services required to transform and take advantage of the new app economy.
These supporting applications also require scale, security, and rapid deployment processes, and the datacenter in an application world must also be able to support those requirements. That means the entire value chain of network services in the datacenter must be agile, lean, and efficient. It must churn out new services to keep up with businesses getting applications to market -- before the competition.
That's why emerging technologies focus heavily on programmability and standardization through service templates. Such capabilities enable network services to be deployed at the speed of business. A January 2014 InformationWeek Report, How to Tie Tech Innovation to Business Strategy, highlights business leaders' growing concern about IT's ability to keep up: "More than half, 53%, say not being able to implement fast enough to meet business goals is somewhat or very concerning. Fifty percent worry about IT budgets being insufficient, and 44% say they may not have enough personnel."
Figure 1: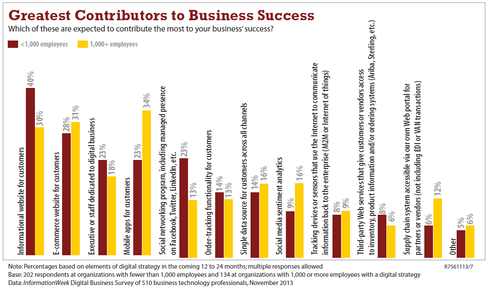 Just 8% of smaller shops and 9% of large companies in the InformationWeek Digital Business Survey believe tracking IoT devices will be key to success. That's shortsighted.
Whether it's cloud, SDN, SDDC, NFV, or NSV, the datacenter infrastructure required for businesses to participate in an application world will need to be highly programmable. That's because programmability enables automation and orchestration, which addresses concerns about deployment speed as well as budgets and personnel. Automation and orchestration enable IT to do more with less because tedious and repetitive tasks can be performed through scripts and management systems – and, in a perfect world, initiated by application and business owners.
In a March 2014 InformationWeek report, The DevOps Challenge, 82% of respondents saw some or significant speed improvement in deployment resulting from the implementation of DevOps through automation and orchestration, which indicates programmability benefits are beginning to prove their worth within the datacenter. It's not just theory anymore: Programmability across the entire datacenter is driving greater efficiency, decreasing time to market, and reducing operational debt.
As you plan the next three to five years, it's paramount to evaluate the datacenter infrastructure with an eye toward how it fits into an application world. Programmability and orchestration systems must focus on the network services that scale, secure, and deliver the applications that will drive business.
Take part in the 17th annual InformationWeek Strategic Security Survey, help shape our 2014 coverage, and enter to win a 64-GB iPad or one of three on-on-one consultations with report author and security expert Michael A. Davis.
We welcome your comments on this topic on our social media channels, or
[contact us directly]
with questions about the site.