The Internet of Things and the Internet of Everything may seem like mere buzzwords, but enterprises are deploying real IoT projects that affect their enterprise networks, data centers, cloud services, and personnel.
If you're in IT, you've undoubtedly heard a great deal about the Internet of Things (IoT) and the Internet of Everything (IoE). A lot of the talk revolves around futuristic claims that are easy to ignore. But, in fact, enterprises are implementing IoT projects today. We'll cover what they're doing, and how you and your environment could be affected -- sooner than you might think.
What are IoT and IoE? The Internet of Things is a technology that enables the collection of sensor data from widely distributed physical objects and, in some cases, the transmission of control signals back to those objects. Networks carry this data to applications and platforms that aggregate, translate, and analyze the data to derive meaningful information.
Some examples of IoT applications include fleet management, remote asset management, healthcare-related monitoring devices, oil pipeline monitoring sensors, and smart metering.
In comparison, the Internet of Everything -- according to MachNation -- is the evolution of technology, business strategies, and human-to-technology engagement in ways that reinvent how organizations function. The IoE includes technology solutions that combine security, software-defined networking, unified communications, analytics, application-aware networking, database federation, and mobile experience. The Internet of Things is the key enabler of the IoE, as shown below.
Figure 1: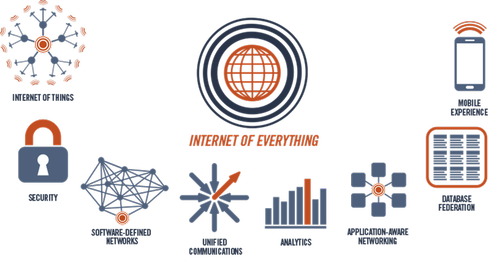 The Internet of Everything
(Source: MachNation, 2014)
Real IoT adoption
There are many examples of IoT working in the market today. Top enterprise use cases include connected cars, fleet management, remote asset management, building automation, building energy management, smart metering, connected healthcare solutions, connected retail store management, and smart warehousing.
In general, most enterprises adopt IoT applications to save costs. For example, they may want to reduce the use of electricity or gasoline, reduce the chance of theft or other criminal activity, or reduce the probability of factory equipment failure.
However, some enterprises are using IoT to develop new services. Construction companies are using IoT to launch collision-avoidance services to reduce accidents and injuries at sites, automotive manufacturers are embedding connectivity in their products so cars notify their drivers when it's time for tune-ups, and medical device manufacturers are launching new healthcare services with connected products.
Why it matters
IoT projects often require the modification, re-design, or purchase of new networks, cloud services, and data center equipment. They also require new applications and platforms to support different types of devices -- from simple sensors to complex computers.
Networks must to be properly re-configured to handle the location, throughput expectations, and security requirements of new endpoint devices the IoT introduces. Most, although not all, will run over IP, putting an additional burden on the corporate network. Some IoT devices, such as smart meters, HVAC systems, or sensors on a factory machine, might not tax a network. Others may have extremely heavy data requirements. Whether they are light or heavy bandwidth users, all IoT devices have different usage characteristics than those of the typical employee using a PC from a desk. IT departments will want to review their network configurations carefully.
Cloud services are part of most IoT projects, used either as part of the IoT application, the application enablement platform, device management, data storage, or analytics. Many vendors offer cloud services to support IoT deployments, so it's common to have multiple cloud vendors involved in a single project. The use of the cloud -- whether public, private, or hybrid -- affects data centers, orchestration, policy management, and security management.
Data center operations will be affected by enterprise IoT rollouts, whether they are cloud-based or on-premises. Questions will arise about spinning up virtual machines, setting up physical hardware, monitoring, management, and resource allocation.
Providing the hardware, database, and software resources necessary to support an IoT application requires careful planning, because often the decision to launch an IoT project involves many functional departments within the enterprise. With so many parties involved, data center managers need to understand fully the expectations for performance and data volumes. Enterprises must also consider additional questions about data security, compliance, backup/storage, and redundancy of systems.
Personnel: IoT also has implications for the types of talent that enterprises need. IoT projects require knowledgeable IT infrastructure personnel who can successfully support implementations and ongoing monitoring. IoT deployments cannot exist without connectivity and a strong, secure enterprise network environment. Enterprises will need specialists with skills in security, hardware, database management, database federation, cloud services, and applications management to successfully pilot and maintain the applications and resulting data.
IoT and IoE deployments can have critical impacts on networks, data centers, cloud services, and the personnel who support them. We forecast a growth rate for connected devices of 30% to 40% per year for at least the next 10 years. Enterprises that prepare for these technology and business changes will find themselves better equipped to compete in global markets and create new, innovative ideas for their customers.
We welcome your comments on this topic on our social media channels, or
[contact us directly]
with questions about the site.