Facebook's Open Compute Project has been developing designs and concepts for servers, switches, and other data center technologies. But how and when will those designs migrate to the typical enterprise?
You just may be able to trace the open hardware concept back to 1911, when Henry Ford led a standardization effort that brought about the Automobile Manufacturers Association, which allowed license-free sharing of patents among automakers.
That doesn't mean the big automakers liked each other and didn't engage in a bit of back stabbing. However, the patent-sharing agreement helped them all by contributing to the eventual commonality in function, safety elements, and size that marked the growth of the auto industry. Think of basics such as the use of four tire-equipped wheels and the accelerator on the right.
In a way, the Open Compute Project seeks to provide the same type of baselines and sharing within the data center sector. Founded by Facebook in 2011, Open Compute probably sums itself up best in its mission statement:
"The Open Compute Project Foundation is a rapidly growing community of engineers around the world whose mission is to design and enable the delivery of the most efficient server, storage and data center hardware designs for scalable computing. We believe that openly sharing ideas, specifications and other intellectual property is the key to maximizing innovation and reducing operational complexity in the scalable computing space."
Other companies on the OCP board include Microsoft, Intel, Rackspace, Arista Networks, and Goldman Sachs. The group's project teams work in areas such as networking technology, server design, network management, storage, data center, and open rack.
Read the resources below for more specifics on what the OCP has been up to since its formation:
Figure 1: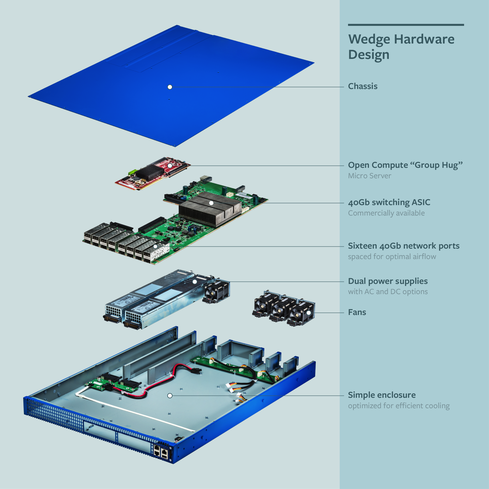 Facebook's Wedge top-of-rack switch design
Have you explored any of the technologies that are evolving through the Open Compute Project? We'd love to hear your thoughts on how those technologies might or might not fit in your data center.