Copper cables can provide better performance, reliability and efficiency than fiber cables for organizations under pressure to improve their data center deployments.
In today's competitive computing landscape, everyone is looking to gain a winning edge, whether it's in performance, efficiency, or cost. Data center architectures are under constant review as companies seek even marginal improvements. While many such overhauls concentrate on network adapters and switch configurations, a much more basic, but similarly effective approach to improving data center deployments is to rethink the interconnect cables.
The advent of optical cables, with their longer reach and reduced electromagnetic interference, has led to the misconception that all aspects of networking should adopt the newer technology. However, within a data center, it often makes the most sense to use copper cables, which can offer significant advantages in terms of capital expenditures, operating expenditures, performance, and reliability. Here are some copper cable benefits compared to fiber cables:
Distance
Copper cables extend to several meters, depending on network speed, which is usually more than sufficient for interconnect within a data center. Whether connecting between servers within a single rack or between switches in a cluster, copper cables offer the ability to transfer at the highest available bandwidth, reliably and affordably.
When it comes to capital costs, copper cables offer great savings. Typically, passive copper cables are two to five times less expensive for comparable lengths of fiber. In a 1,000-node cluster, with hundreds of required cables, that can translate into the hundreds of thousands of dollars.  Extending that into even larger data centers, the savings can reach into the millions.
The savings, however, don't stop there. Because copper cables do not consume power and because their thermal design requires less cooling, there are extensive savings on operating expenditures within the data center. Hundreds of kilowatts can be saved by using copper cables versus fiber.
Reliability & speed
One of the biggest advantages to copper cables is their reliability, which is measured in mean time between failures (MTBF). The MTBF for passive copper cables is around 50 million hours -- typically order of magnitude higher than industry data of fiber cables. Copper cables provide a serious benefit to the enterprise data center where reliable data transport is paramount to avoid downtime.
With the continued growth of data, and the usage of data for various applications, including drug discovery, traffic management,  car and airplane design, social media,  financial trading, and national security, the need for moving data faster within the data center has increased dramatically. High-performance computing, Web 2.0, cloud, and storage infrastructures use interconnect speeds of 10, 40, and 56 gigabit-per-second (Gbps) and have now started to migrate toward 100 Gbps.
Vendors have already demonstrated copper cables ranging from four to eight meters that can provide bandwidth at up to 100 Gbps bandwidth, opening data center doors to previously unheard-of interconnect performance and efficiency. The ability to continue to use copper cables for such speeds instead of using all fiber (VCSEL- or silicon photonics-based) provides a competitive advantage. 
Figure 1: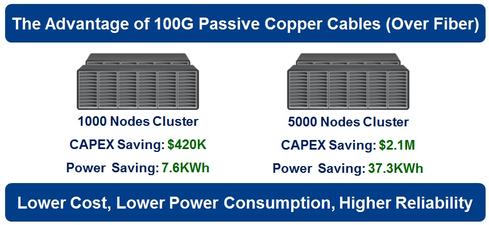 In a world in which the slightest edge can make all the difference to a company's profitability, it's crucial that CIOs and network administrators pay attention to any and all aspects of their data center infrastructure that can provide an advantage. Copper cables can handle 100 Gbps over up to eight meters, which is perfect for data center deployments, while also offering lower latency, better reliability, and reduced power consumption for a fraction of the cost.
While switch configuration and network adapters are primary factors in planning a data center's architecture, cables are an often-forgotten component that can deliver vast performance benefits and improved efficiency while saving budget, via both capital and operational expenditures.
We welcome your comments on this topic on our social media channels, or
[contact us directly]
with questions about the site.