Our security-themed cartoon caption contest drew lots of witty entries. Here's who won.
Earlier this month, we published a cartoon drawn by illustrator John Klossner and asked you to provide the caption, offering prizes for the winning and runner-up entries. With security training as the topic, we expected to community members would rise to the challenge. And you sure did, submitting more than four dozen clever and creative captions.
With so many entertaining entries, we had very difficult time choosing the contest winners. We really enjoyed all of them. But we did manage to crown a winner, so drum roll please:
Figure 1: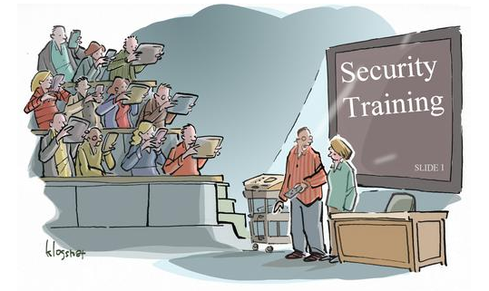 "What do you want to bet that my slide presentation has already been hacked?"
Congratulations to community member dw_ship, who submitted the winning entry. You can see the witty caption matched up with the original artwork above. We think it makes for a very clever take on the state of security. The effort has won dw_ship a $50 Amazon gift certificate.
Our runner up is community member cabby777 for this zinger: "Wow, what an odd coincidence, the audience did the same thing when I presented at Anthem Insurance and Sony Pictures." Our judges thought the caption really hit home. Cabby777 wins a $25 Amazon gift certificate.
Congratulations to both of our winners, and thanks to all who participated in our contest. If you have ideas for other fun contests, we'd love to hear them.
We welcome your comments on this topic on our social media channels, or
[contact us directly]
with questions about the site.