I'm heading to WMworld for the first time, and relying on a schedule filled with smart people and intriguing activities to keep me on track.
I have a confession to make: I have never been to the VMworld customer conference. That's surprising, considering how many of our community members and contributors attend the event every year, and how essential virtualization has become to enterprise infrastructure.
Really, it's just the timing of the show. As a New Enlander and the mother of two college-aged kids, I was loathe to give up a whole week in August to travel to one of the few climates in the US cooler than my own. The time out of the office is also tough to recover from, because September is one of the busiest months of the year at work. But now my kids are out of school, and my job truly demands it. So VMworld, next week I sacrifice to you the last precious days of summer and dive right into the conference season.
I am little nervous, knowing how easy it is to become lost at an event spanning a big conference center (both literally and figuratively). I also tend toward the shy side, so when faced with a crowded room of people and no specific plan, my natural instinct is to bolt and hide in my hotel room. My strategy for overcoming this is to schedule myself silly (SMS).
Luckily, VMworld has no lack of things to do, and a handy mobile app with which to keep track of them. Of course, the focus is customer education, and the session catalog offers 625 different sessions ranging from introductory (Hyperconverged Infrastructure for Dummies -- only this crowd would call that introductory) to advanced (A Technical Deep Dive on Implementing Defense Information Systems Agency's (DISA) VMware 5 Security Technical Implementation Guide (STIG) for DoD). There are also countless vendor presentations, breakfasts, luncheons, panels, demos, and user group meetings to choose from.
Of course, I will attempt to stay informed of the big news and trends, because that's traditionally what my job has entailed. So I start my schedule by blocking out time for the keynotes and selecting a couple topic areas I hope to write about. Then I plan to attend a few related sessions, especially those with presenters I might be able to interview.
But, really, the biggest reason I'm going to VMworld is to meet and talk to people in the community. So SMS is about making the most of that face-to-face time, while I have access to it -- SMS-F2F, if you will. I am acquainted with scores of ridiculously smart people through email, Twitter, and LinkedIn whom I rarely get to see in person. People like this: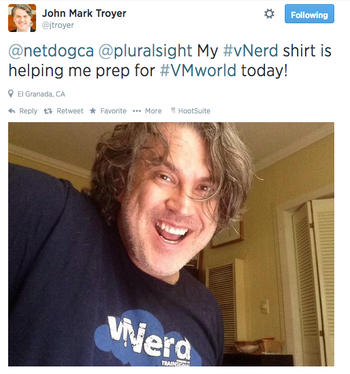 If I know these folks will be at VMworld, I'm trying to reach out to them and plan some time to talk, F2F.
I am also determined to seek out those places and events that will have the most community members per square inch, so that I put myself in the best possible position for interaction with new names and faces (and so the doors are blocked if I get the urge to flee). VMworld has some intriguing sessions where I think some approachable people may turn up:
In addition, there are more social events at VMworld than I have seen at any other conference. These can be extremely intimidating, but VMworld takes a step toward making them more inclusive by listing them on a Gatherings page. A few highlights include:
The VMware social media team will also host a Hang Space featuring community tech talks, an area for bloggers, and special community booths. If I find myself with any time in between my planned SMS activities, I will be here.
If you are at VMworld and you see me, please introduce yourself, F2F. You may prevent this virgin (ahem) from running for her hotel room.
We welcome your comments on this topic on our social media channels, or
[contact us directly]
with questions about the site.