The key piece of Cisco's ACI strategy will ship July 31, along with new ACI starter kits. The company also made the ACI price list public.
The long awaited centerpiece of Cisco's software-defined networking platform, the Application Policy Infrastructure Controller (APIC), is scheduled to ship Thursday, July 31.
Cisco launched its Application Centric Infrastructure  (ACI) platform in November, along with new Nexus 9000 switches that can run in ACI mode with a software upgrade. Since then, the company has talked a lot about its ACI vision and launched other form factors in the Nexus 9000 line, but customers have been waiting for APIC, a centralized management controller that pushes policies out to the network.
Cisco said Tuesday that it will ship APIC as an appliance in two versions, one that supports fewer than 1,000 10 Gb leaf ports for $40,293, and the other supporting more than 1,000 10 Gb leaf ports for $58,017. Cisco said it's shipping APIC as an appliance instead of software in order to make it easy to use for customers, said Director of Product Management Thomas Scheibe in an interview.
Other ACI pieces that will ship Thursday include ACI line cards and software for the Nexus 9508 modular spine switch, which has been available since November. In addition, ACI software will be available for the Nexus 93128TX and 9396PX fixed leaf switches, also previously available.
The company said ACI will be priced on a per-leaf, perpetual ACI software license. There is no separate software license for APIC. Taking aim at competitor VMware, Cisco emphasized that there will be no per-month, per-virtual machine cost for ACI.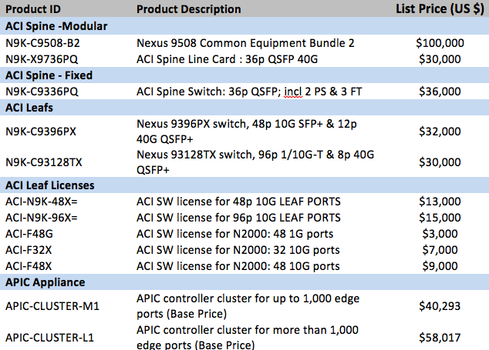 VMware released pricing for its NSX network virtualization platform last month. VMware NSX can be bought with either a perpetual or term license. List pricing for a perpetual license starts at $5,995 per CPU, and list price for a term license starts at $34 per VM per month, with volume discounts available, according to a VMware spokesman. vCloud Suite customers can buy a NSX add-on for $3,495.
On Tuesday, Cisco also announced four versions of a basic ACI "starter kit" that is designed to help customers with proof-of-concept lab deployments or to create an "ACI pod" in their data center that connects with existing Nexus 2000, 5000, and 7000 switches and extends ACI policies to that infrastructure.
Bundles include APIC, two fixed or modular spine switches, two or four leaf switches, leaf licenses, and cables to connect the spines with the leaf switches. Pricing for the bundles starts at $250,000. They will be available Thursday.
A report released Monday by Infonetics showed that enterprise SDN planning is well under way. Of the 101 North American enterprises surveyed, 45% plan to have SDN in live production in the data center next year. By 2016, that number grows to 87%.
The top three SDN vendors that survey participants said they're evaluating were Cisco, VMware, and IBM.
"Cisco was initially a little slow to get on bandwagon with the SDN transformation," Cliff Grossner, directing analyst at Infonetics, said in an interview. "They've seen the industry is in a transformation and want something different. They realize going forward software and services is going to be where the value is, more than pre-built hardware boxes that are closed and not expandable."
We welcome your comments on this topic on our social media channels, or
[contact us directly]
with questions about the site.