VMware has struggled to bring end users under the authority of its x86 virtualized datacenter. AirWatch may be the missing element.
VMware's purchase of mobile device management and mobile security vendor AirWatch, announced January 22, raises two big questions.
First, how is AirWatch different from its other end-user oriented acquisitions, such as SlideRocket, which it held for less than two years before divesting? Indeed, it shed SlideRocket with no clear return on the investment.
Second, VMware paid a premium at $1.54 billion for a 1,600-employee company. What did it get besides increasing VMware's headcount? Does AirWatch fit into the overall VMware strategy better than SlideRocket and Zimbra did?
AirWatch is a different kind of end-user company from SlideRocket, which VMware purchased in 2011 when then-CEO Paul Maritz was hunting for the end-user applications that would lure the masses onto virtualized desktops. Maritz is gone, moved on to head the Pivotal spinoff, and so are the end-user application acquisitions.
[Want to learn more about how VMware balances R&D and acquisitions? See VMware Navigates High Wire Act.]
AirWatch is not so much an end-user application as an end-user management system. VMware already has its Horizon View end-user virtual desktop infrastructure, but it's oriented to an x86-based desktop and laptop world, much like VMware server virtualization. AirWatch is a BYOD system that recognizes Apple laptops and iPhones, Androids, Windows Mobile and Windows Phone, BlackBerry, and Symbian mobile devices.
AirWatch is systems management for small systems, something like VMware's vSphere and the vCloud Suite are systems management for very large clusters of servers. AirWatch can set up and manage an individual workspace, mobile security, mobile applications on a device, and the content fed to the application.
It's a potential complement to another VMware purchase, last October, of multitenant desktop supplier, Desktone. Like AirWatch, Desktone moved VMware away from the x86-based end user into the world of BYOD. It also moved VMware off-premises and into the cloud. Desktone could convey a desktop from a remote datacenter "to any user, anywhere on any device," its CEO Peter Kaye boasted in October.
Desktone was a pioneer of the concept that desktops could be provisioned and administered from the cloud, and launched the approach as a product line in 2006. Along the way, it amassed customers including cloud service providers IBM, Dell, NaviSite, and Dimension Data, and Fujitsu, Logicalis, NEC, and Quest. Its cloud operations were largely based on open source code. No matter how VMware shuffled its predecessor VDI elements, it couldn't match those economics.
Figure 1: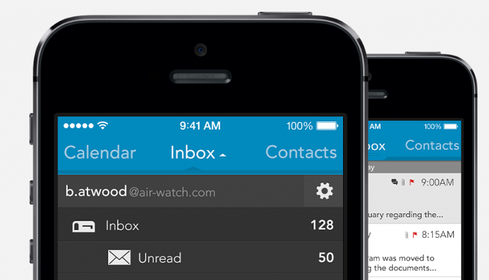 (Image credit: AirWatch.)
In a similar vein, AirWatch is not just another BYOD company, but one of the leading companies in terms of its customer base. Its customers include United and Delta airlines, InterContinental Hotels Group, Walgreens, Lowes, ING, Royal Caribbean, the US Army Corps of Engineers, and several medical device manufacturers who decline to be named.
VMware pays a lot for its acquisitions but, in addition to products, it's buying two things: a braintrust for a desired new market, and credibility in that area through an existing customer base. It did so with its $1.26 billion Nicira purchase to get into software-defined networking. It's doing so again with the AirWatch acquisition.
VMware treats these acquisitions something like EMC treated VMware as it was brought into the fold. AirWatch co-founder and CEO John Marshall will continue to lead his team in Atlanta. He will report to Sanjay Poonen, executive VP and general manager of VMware's End User Computing Group, the veteran from SAP end-user computing. Co-founder and chairman Alan Dabbiere will oversee AirWatch's operating board and will report to VMware CEO Pat Gelsinger. Everyone at AirWatch has a VMware boss, but the supervision is loosely coupled through the company's founders.
If VMware thought that its future was in the enterprise datacenter, its area of greatest success, it wouldn't be making purchases like Desktone and AirWatch. On the contrary, its strategy for both server and end-user computing has moved beyond the software-defined data center. For two years, that phrase encapsulated everything that VMware planned to do with the virtualized-server side of its business. Now it's bidding to rope in virtualized users who are not only outside the datacenter, but frequently off the reservation entirely.
VMware, despite a strict x86 heritage, understands that the future desktop is not a place or particular device, but one of several possibilities in the hands of a mobile worker. And it knows that managing that desktop must occur alongside x86 server, storage, and networking operations, possibly on the same pane of glass.
AirWatch consolidates the management of many dissimilar devices into a single management interface. Is it the end-user computing elixir that VMware was looking for in its SlideRocket-like acquisitions? No, it's still a far cry from being the answer to VMware's end-user computing problem.
But if AirWatch's mobile end-user management can be combined with Desktone's cloud provisioning and operations, along with elements of VMware's Horizon View VDI, then VMware may finally be putting together the pieces of a complex puzzle.
Engage with Oracle president Mark Hurd, NFL CIO Michelle McKenna-Doyle, General Motors CIO Randy Mott, Box founder Aaron Levie, UPMC CIO Dan Drawbaugh, GE Power CIO Jim Fowler, and other leaders of the Digital Business movement at the InformationWeek Conference and Elite 100 Awards Ceremony, to be held in conjunction with Interop in Las Vegas, March 31 to April 1, 2014. See the full agenda here.
We welcome your comments on this topic on our social media channels, or
[contact us directly]
with questions about the site.