VMware steps up competition with Amazon Web Services by hiring away its international technology evangelist.
Simone Brunozzi has been named chief technologist and senior VP for VMware's vCloud Hybrid Service. He was recruited from Amazon Web Services and said he will miss working with "great people like (CTO) Werner Vogels," but can't resist going over to the other side.
VMware has urged its third-party partners to step up and compete more effectively with Amazon for cloud customers. At its Partner World in April, president Carl Eschenbach urged them to avoid being beaten by a would-be technology company "that sells books." Now VMware is recruiting former booksellers into its own ranks: among his other credits, Brunozzi said he was once a novelist.
VMware announced Friday that Brunozzi has resigned from Amazon as a senior technology evangelist to help VMware establish the cloud credentials of its vCloud Hybrid Service. Brunozzi grew up in Assisi, Italy, and will help with VMware's plans to expand vCloud Hybrid Service into Europe.
[Want to learn more about VMware's public cloud initiative? See 4 Things VMware Must Do At VMworld.]
Brunozzi has been an entrepreneur, a university professor, and CTO of Foreigners University in Perugia, Italy. Between 2008 and 2014 he was one of the frontline evangelists for Amazon Web Services. It was a major step for him, he said in a VMware blog posted Friday, to leave Italy and go to work "for a little bookstore up in Seattle." He has frequently been the public face at AWS events, and often teased that the males in his audience looked disappointed that someone named Simone "isn't a beautiful Italian woman."
Figure 1: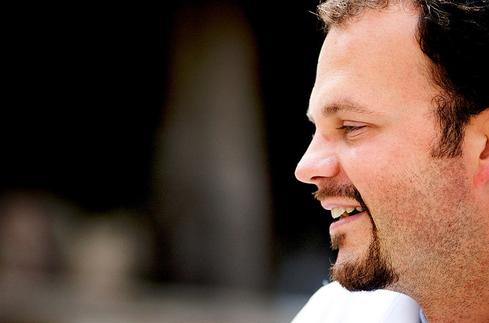 Simone Brunozzi (Image credit: luca.sartoni)
"Wow, what a ride it has been. I am very grateful for my time there," he wrote of his six years at Amazon.
Brunozzi also wrote of his reasons for changing positions. He said VMware is on the move and "reinventing itself. You can see the signs all around, it's like... an old city suddenly enjoying a gold rush: old buildings are replaced by shiny new ones, streets become busier than ever, and you feel that vibration all around you."
Brunozzi said VMware now has more than 14,500 employees, and he looks forward to working on its European expansion. He also cited two other recently filled technologist positions he'll work with. One is Ben Fathi, VMware's former senior VP for R&D, named global CTO on Jan. 8. He's been at VMware for two years. Prior to that, he was a senior VP for the operating system and network protocol teams at Cisco Systems. He replaced Steve Herrod. The other person is Chris Wolf, a former Burton Group and Gartner analyst, named VMware CTO for the Americas on Jan. 27.
Brunozzi also wrote about the atmosphere he found inside VMware in his first week. "I already feel that this company genuinely cares about things such as the environment, giving back, and the well-being of others." He said he was new to the company's green and charitable initiatives but will elaborate in future posts "on the beautiful details of what I've seen."
Engage with Oracle president Mark Hurd, NFL CIO Michelle McKenna-Doyle, General Motors CIO Randy Mott, Box founder Aaron Levie, UPMC CIO Dan Drawbaugh, GE Power CIO Jim Fowler, and other leaders of the Digital Business movement at the InformationWeek Conference and Elite 100 Awards Ceremony, to be held in conjunction with Interop in Las Vegas, March 31 to April 1, 2014. See the full agenda here.
We welcome your comments on this topic on our social media channels, or
[contact us directly]
with questions about the site.