Private clouds are moving rapidly from concept to production as fears about expertise and integration wane, according to our new survey.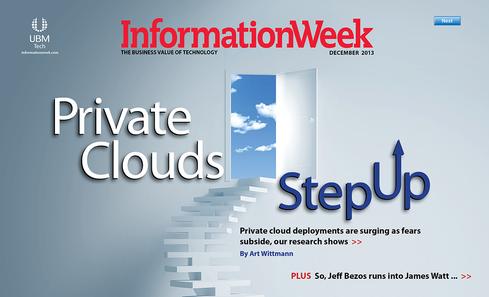 Download the entire InformationWeek December 2013 special issue on private clouds
, distributed in an all-digital format (registration required).
It's been 20 months since our last InformationWeek Private Cloud Survey, and boy have things changed. In that time, the percentage of enterprises reporting functional private clouds more than doubled, from 21% to 47%.
What's equally amazing is that, in April 2012, 30% of survey respondents were only starting cloud projects. A 26-percentage-point increase in shops with functional clouds means that most of those plans that were on the drawing board two years ago made it into production. We almost never see organizations move so fast on a new technology.
If private cloud technology ever went through Gartner's "trough of disillusionment," it was short-lived. Rather, the stars were aligned for strong growth. The OpenStack Foundation was incorporated six months after our 2012 survey, and CloudStack, an open-source private cloud suite that's been battling it out with Eucalyptus and OpenStack, was released to the public a few months before. Meantime, a fully functional version of VMware's vSphere, rolled out in early 2011 with support for Windows Server 2008, RHEL 6, SLES 11, Ubuntu, and Solaris, was hitting its stride. VSphere 5 hit the market in July 2011 with some very useful capabilities, including storage virtualization and data protection.
While our survey shows some vendor winners and losers, what's more interesting is a swing in thinking about which private cloud technologies are most valuable. Either unique needs drove early adopters, or the technology itself has evolved in how it tackles modern datacenter problems, even as users were happily moving from project to production.
We think both are true. Early adopters likely realized they were spending too much time on typical datacenter plate-spinning and turned to the automation that comes with private clouds to address that problem.
Yet two years ago, the technology was far from baked. VMware, meanwhile, has (fairly quietly) been building its private cloud arsenal; for most private cloud adherents, this is the way to go. VMware's software isn't inexpensive, but the only way IT gets to work on new initiatives is by automating the old stuff, and that makes the cost worthwhile.
The current satisfaction with private clouds seems to come at the expense of public and hybrid models. We saw a five-point increase in the percentage of respondents saying they're phasing out their public cloud use. Of those who said in our 2012 survey that they're using or planning to use the public cloud, 11% said "no" to the hybrid cloud model. That percentage has increased to 19% now. This change is likely due to the nature of private cloud users today (most IT shops) compared with then (early adopters who like to experiment).
The public cloud can be great for business continuity purposes, but tools capable of duplicating and deploying internal systems into the public cloud are just now coming to market. VMware has its own public cloud offering, but its prices aren't yet in line with Amazon's and its main rivals -- and they likely won't be if the Google-driven price wars keep up. Most enterprises can set up their disaster recovery across company-owned or blue-chip colocation sites.
Resistance is futile?
Why are private cloud abstainers -- the 23% of survey respondents who say they're not pursuing the technology -- holding back? Typically, their needs aren't pressing enough to justify the disruption.
Back in 2012, the biggest reason for not pursuing a private cloud was that other projects took priority. Other reasons: A cloud model didn't support their applications; they lacked the budget; they didn't see a need. Twenty percent of respondents said they simply hadn't considered a private cloud.
Today's top answer is "no need," followed by "investigated it and found it not a fit." Sometimes when things aren't broke, you don't fix them. The percentage saying they haven't considered private cloud fell from 20% in 2012 to just 9% in our recent survey. The percentage of respondents who say they've investigated private cloud but found it too untested has doubled, from 6% in 2012 to 12% now.
The current private cloud avoiders are classic, well, laggards. They say they'll move to a private cloud when the technology they're using no longer supports the business. What would persuade them to consider moving faster? Significant operational and capital expense savings.
Download this InformationWeek December 2013 special issue on private clouds.
We welcome your comments on this topic on our social media channels, or
[contact us directly]
with questions about the site.