Does a barrage of Azure announcements indicate that Microsoft may finally be shifting away from a "Windows-first" mindset?
Microsoft's epic opening Build keynote ranged from a new Start menu for Windows to Cortana and other personalized touches in Windows Phone 8.1 to Universal Apps that span the Microsoft ecosystem, including Xbox. How could the company keep pace during Build's second, more technical keynote? By announcing 44 Microsoft Azure features for developers.
Elaborating on CEO Satya Nadella's "cloud first, mobile first" strategy, Scott Guthrie, Microsoft's new cloud and enterprise chief, told Build attendees that infrastructure and platform services will merge into a single cohesive experience, enabling IT pros to work within a unified set of cloud tools.
Several of Microsoft's announcements spoke to this trend. The new Azure Preview Portal, for example, unites Microsoft and third-party services into a single view. This allows developers to manage resources such as Azure Web Sites and databases jointly, rather than handling them separately.
[Is the battle already over? Read How Apps Won The Mobile Web.]
The portal also includes a map that displays the health of cloud infrastructure across geographies, which should help IT pros identify and quickly drill into any problems. Users can also categorically monitor costs through the portal, which, like many contemporary Microsoft products, uses a tiled interface.
Figure 2: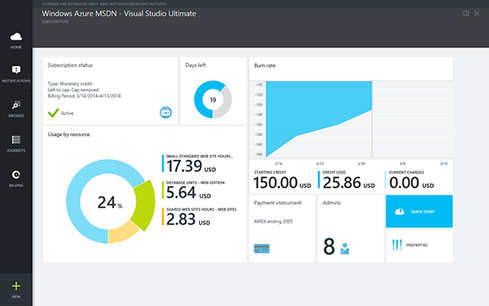 The Azure Preview Portal's Billing and Account feature.
(Source: Microsoft)
Microsoft announced general availability of Visual Studio Online, the online version of its tools for app builders. Continuing Microsoft's theme of merged management environments and simplified workflows, Visual Studio Online includes a lightweight editor that lets developers modify, debug, and analyze code without leaving Azure.
For web developers, Microsoft integrated support for Autoscale and Traffic Manager into Azure Web Sites, which should give admins more control over service loads. Azure Web Sites also offer a free SSL certificate for better out-of-box security.
Another new feature: increased capacity for SQL databases on Azure. Customers can now store up to 500 GB of data, up from 150 GB. Microsoft also said its cloud will now protect SQL databases with a self-service recovery feature that automatically generates 30-day backups. Microsoft also promised Azure now boasts 99.95% uptime.
Microsoft unveiled a number of open-source initiatives, including a partnership with Xamarin to establish a new .Net Foundation. Microsoft's contributions range from the VB and C# programming languages to the Azure software development kit to a preview of its "Roslyn" .Net Compiler Platform. Microsoft also open-sourced its Windows library for JavaScript, WinJS, which should interest developers of web apps.
Microsoft took the opportunity to tout Azure's growing accomplishments. The cloud platform has expanded rapidly, supporting not only Microsoft cloud products such as Xbox Live, OneDrive, and Office 365, but also thousands of websites, the back ends of scores of mobile apps, and more. Still, Amazon and Google's respective cloud offerings have staked formidable ground, as well, which is why the companies have continually readjusted pricing and introduced features over the last year.
Figure 1: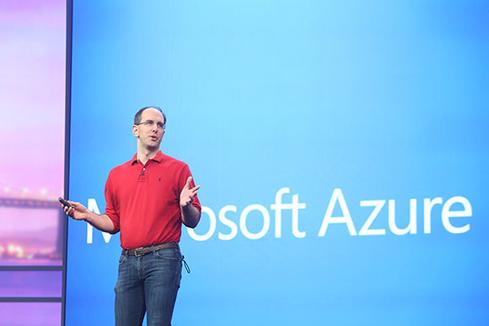 Microsoft's Scott Guthrie.
(Source: Microsoft)
According to Guthrie, more than 57% of Fortune 500 companies use Azure, which powers more than a quarter-million websites. He said that Microsoft's cloud has absorbed more than 300 new features since last year's Build, and that Azure helped NBC deliver online streaming of its recent Olympics coverage.
Overall, the announcements typify Azure's movement toward simplified management and workflows and support for diverse workloads. The company made clear at Build that Windows remains an important part of its strategy, but Azure represents a shift. A few years ago, Microsoft was still denying that iPads and Android devices were even relevant. Now it has conceded that iOS and Android apps will remain popular -- perhaps more popular than most Windows apps.
Given this reality, Microsoft wants iOS and Android developers to use its tools and clouds to build their apps. This agenda is about attracting the new, generally younger breed of mobile developers. But Microsoft also needs to keep its legacy developers invested. Guthrie and others acknowledged this point explicitly and emphasized that, with Microsoft's tools, veteran developers can embrace mobile apps and the cloud while relying on their programming skills.
Forrester analyst Jeffrey Hammond previously told InformationWeek that Microsoft's Universal Apps are "enough to quiet the rebellion amongst the diehard Microsoft devs" who have found it impractical to build apps for so many different platforms.
Following the second keynote, Hammond said Microsoft might be making inroads with younger developers. "The mobile services make it easier to create a back end for Modern apps," and in many ways, Microsoft projected a "whatever-you-need" mentality during the conference.
"All in all, I think it's been a very positive Build," Hammond said. "There will be many devs attracted to this new mentality that puts Microsoft before Windows, as opposed to Windows before Microsoft."
Emerging standards for hybrid clouds and converged datacenters promise to break vendors' proprietary hold. Also in the Lose The Lock-In issue of InformationWeek: The future datacenter will come in a neat package (free registration required).
We welcome your comments on this topic on our social media channels, or
[contact us directly]
with questions about the site.