Announcing a spate of cloud partnerships, Dell begins to firm up its new identity.
If taking his company private hasn't made Dell CEO Michael Dell more relaxed and confident, he put on a convincing facade during his opening keynote Thursday at Dell World.
"Shazam!" Dell exclaimed after Dell Servers VP and GM Forrest Norrod demonstrated the company's Fluid Cache for SAN storage product achieving over 5 million IOPS, which Dell claimed is a world record.
"When you go cloud, go with Dell. KABOOM!" Dell said in another of his more exuberant moments, many of which also included references to the R&D freedom the company can enjoy now that it's no longer subject to Wall Street's quarterly scrutiny. Dell can operate like "the world's largest start-up," the CEO declared, repeating a line that company executives have used since the buyout was finalized.
Figure 1: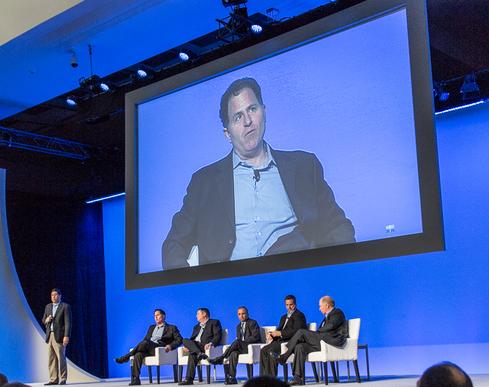 Dell CEO Michael Dell speaks at Dell World 2013
But showmanship is par for the course during major tech keynotes. Many among the thousands of Dell customers in attendance seemed engaged by the CEO's feisty tone, but many were no doubt asking the same question: What does all this mean for me and my business?
Dell executives have addressed this concern in recent weeks, but largely in broad terms. On Thursday, the company revealed specifics, announcing a variety of cloud partnerships and innovation initiatives that CEO Dell said would return the company to its heritage: bringing customers the products they need at disruptive prices.
The announcements were highlighted by an OEM alliance with Red Hat in which the two companies will jointly engineer systems that run Red Hat's version of the open-source OpenStack cloud platform. The company also announced partnerships with a variety of public cloud vendors, including Google, Microsoft Azure, and CenturyLink. It's an impressive roster, even if it omits the 800-pound gorilla in the room, Amazon Web Services.
The gist is that Dell, unlike competitors such as HP and IBM, doesn't see the benefit in building out its own public cloud. Instead, the company has opted to partner with others, which allows it to focus on simplifying cloud management and orchestration instead of building out the underlying infrastructure.
[Is Dell's Venue Pro the right Windows tablet for you? Read Microsoft Surface vs. Dell Venue: Tablet Rivals.]
The partnerships announced Thursday also include a deal with Dropbox. Dell will offer Dropbox for Business through its sales force and pair it with Dell Data Protection Cloud. Dell's technology encrypts data as it moves in and out of public clouds. Dropbox says more than 4 million businesses are using its product. Ross Piper, the company's VP of Enterprise Strategy, told InformationWeek it hadn't yet been determined when the Dell-backed offering will roll out.
Other Dell announcements included the Dell Research Division and the Dell Venture Fund, two projects intended to spur innovation. The Dell Research Division will focus on organic growth with a long-range focus and will collaborate with leading research universities to harness emerging technologies, Michael Dell said. The $300 million venture fund will identify and support early-stage startups from around the world.
Dell executives also emphasized that though the company's future is in software and services, it remains committed to the PC market. Dell is one of several companies that have taken a beating, both financially and in the press, as the PC slump has worn on. But Michael Dell emphasized the promise of new products, such as its Venue tablet line, and claimed the company is seeing growth in notebooks.
We welcome your comments on this topic on our social media channels, or
[contact us directly]
with questions about the site.