Our annual WAN survey finds usage of WAN optimization and traffic shaping up 4% over last year, despite some predictions in the industry to the contrary.
The need for more and more bandwidth is not abating; 68% of respondents to our 2014 InformationWeek Next-Gen WAN Survey say they expect demand to increase in the coming year or two. That's up dramatically from just 34% saying the same in our 2013 survey. Clearly, mobility and use of public cloud services are behind this spike. Nearly half are planning or already in the midst of WAN upgrades.
The good news is that 82% of respondents can acquire the level of WAN services needed to support business growth. The bad news? WAN circuits are still expensive and laborious to deploy. One network analyst from a local government finally had enough, saying his town finally built its own WAN. "Incumbents were unwilling to either build it or collaborate with us to build it on a split-cost basis," he says. "Service providers in our area — AT&T, TWC, Centurylink — are all insensitive to our needs."
Unfortunately, most organizations lack the ability to construct their own WANs. Respondents increasingly opt to pony up for faster circuits, with two-thirds now using some form of carrier Ethernet, up seven points. A majority (53%) now use Gigabit Ethernet, up eight points, while the share running 10 Gbps Ethernet or Fibre Channel increased six and eight points, respectively. Conversely, those running older OC3 or T1/ISDN dropped five and three points, respectively.
Another sign of the increased need for speed is the share of respondents using WAN optimization or traffic shaping on some or most connections, up four points this year to 55%. Most are looking to improve application performance for Web apps, like OWA, SharePoint or PeopleSoft, although 46% use WAN optimization to improve bulk file transfers. An additional 43% are already dealing with WAN bottlenecks and using optimization to reduce total bandwidth consumption.
This contradicts an article by Network Computing contributor Greg Ferro that predicted that the importance of WAN optimization and acceleration would fade over time. Ferro also cited an Infonetics study describing WAN optimization and application delivery controllers "on an overall downward trajectory." Perhaps over the very long term, this technology will lose importance, but for now, we can see that readers are making the most of their WAN investments.
Figure 1: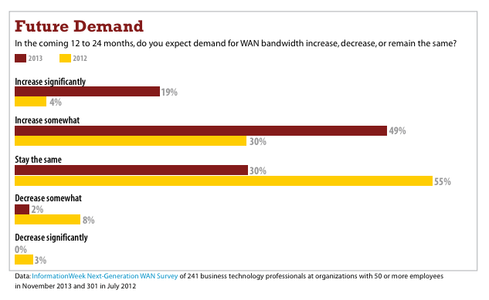 It's no surprise that in an age where over four times as many people get their Netflix content via streaming versus DVDs and flights are grounded when networks go down that the need for WAN capacity keeps increasing. Over two-thirds of our respondents say their demand for WAN bandwidth will increase in the coming year or two, up an eye-opening 34 points since our last survey. Of those, 19%, up 15 points, expect needs to increase significantly.
While almost half of respondents have plans or are in the midst of a WAN upgrade project, an additional 16% would like to but can't. For 26% it's a matter of budget, while 54% have other priorities; essentially, IT is constantly forced to triage needed projects to cope with fiscal constraints.