Integrating your private cloud with public clouds can provide agility, security, and control. But getting the minutia right is daunting.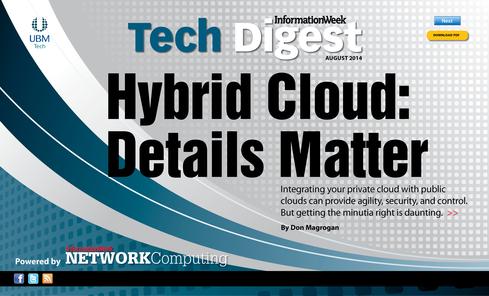 Download the latest Network Computing Digital Issue (registration required).
Organizations are embracing the idea of private and public clouds working together, especially for new application deployments. InformationWeek's State of Cloud Computing Survey shows 79% of those using cloud services employ multiple providers.
Correlate this information with a recent Gartner report projecting that nearly half of big companies will have hybrid cloud deployments by the end of 2017, and it's safe to say the hybrid cloud trend is here to stay, at least for the foreseeable future.
Hybrid makes sense for organizations that want some of the public cloud's advantages, but don't fully trust their data to public cloud providers or find that they can run some of their applications on internal infrastructure and get lower cost or better performance. It's clear that public cloud cost is coming under intensive scrutiny: Among 392 respondents to InformationWeek's new Cloud ROI Survey, 89% of those using or evaluating cloud computing say they're somewhat concerned, concerned, or very concerned about runaway cloud costs.
At least half of respondents consider these financial factors among their top three cloud ROI priorities: initial capital costs, operational expense, and future capital costs. A hybrid cloud may make those numbers more predictable, and also allows for increased control over applications running on those internal virtualized components — and we all know how IT likes control.
CIOs also like to be highly responsive to the business, and one of the key tenets of cloud is the ability to provide on-demand self-service: spin up compute or platforms on the fly as needed and relinquish them when the task is complete. When you add the ability to rapidly expand resources, you can see how a growing business can easily expand beyond the resources of its own internal capacity.
The case for hybrid
This is where the hybrid aspect steps in. While still not simple, it allows businesses to control applications and data within their own infrastructure but burst resources into the services of one or more public cloud providers as needed and then retract resources when the crunch is over. These kinds of scenarios always raise governance and management issues; we will address those a bit later. For now, let's look at the technical challenges.
Companies need resource pooling and sufficient network access as the foundation in order to provide self-service cloud resources that can easily expand to meet demand. Resource pooling requires the right tools and applications, including cloud orchestration software and service brokers. The goal, as I discuss in this report, is that internal business can order compute, software, or platforms and never know whether the resources are drawn from a local virtualized data center or a service provider.
To deliver this kind of load balancing based on usage or demand, applications built to use a well-architected hybrid setup can burst internal cloud resources, and when the limit is hit, burst further into the integrated service providers. The key words, of course, are "well-architected."
Costs and capabilities
The costs and capabilities of public cloud providers are in a constant state a flux. For IT, that's good news and bad news.
On the upside, recent price wars among major providers, including Amazon Web Services, IBM SoftLayer, and Microsoft Azure, are good news for customers because they're driving down the price of basic compute capacity. Even better is the drive among competitors to match or exceed the capabilities of rivals.
As an example, AWS's Direct Connect option eases the process of setting up a secure link between your data center and Amazon's facilities. Dedicated connections can maximize throughput, reduce network costs, and provide a more consistent experience — all major considerations when designing a hybrid cloud. Now, other commercial services are starting to provide the same level of connectivity; Windows Azure has its ExpressRoute, and IBM has Direct Link.
The downside of this rapid transition and expansion of services is that it could make your poorly planned or dated architecture look even worse, if it can't morph to utilize the lower price points or the updated features. In the age of cloud, a system can become outdated in a year. The concept of investment protection has rarely been more relevant than when you undertake building out a private cloud with an expectation to add public services using a hybrid model.
Read the rest of the story in the new
Network Computing Digital Issue (free registration required).
We welcome your comments on this topic on our social media channels, or
[contact us directly]
with questions about the site.