Are too many VCs chasing too many startups? UPDATED 7/24
While venture money may be drying up in some areas of technology, it still seems to be pouring in to storage networking startups. Funding of the current crop of companies in this field is near $2 billion, according to
Byte and Switch
's analysis -- raising a question mark over whether all this money is being well spent.
In the exercise, Byte and Switch identified all of the storage startups on its radar screen and collected information on how much funding each one had received. After totaling everything, the results indicate that $1.854 billion has been committed so far on 60 or so startups. So, allowing a fudge factor for the stealth-mode companies that are keeping mum on funding (and, okay, the ones we may have missed), a $2 billion total is probably about right.
Of course, this is just for starters. Most of the $2 billion went into first- and second-round funding, so a lot more money could be in the pipeline.
Now check this out. When the startups are divided into different market segments, big differences emerge:
Figure 1: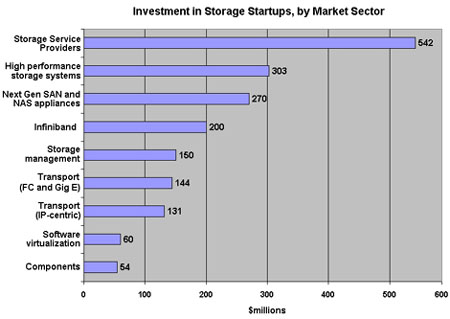 We welcome your comments on this topic on our social media channels, or
[contact us directly]
with questions about the site.