MRVC CFO Edmund Glazer and Akamai founder Daniel Lewin killed in World Trade Center plane crashes
MRV Communications Inc.
(Nasdaq: MRVC) and
Akamai Technologies Inc.
(Nasdaq: AKAM) announced Tuesday that two of their executives were victims of the plane crashes involved in Tuesday's terrorist attacks on New York City.
Edmund Glazer, chief financial officer and vice president of finance and administration of MRVC, was killed aboard American Airlines flight #11 from Boston to Los Angeles, which crashed into the New York World Trade Center, confirmed the airline and MRVC. Edmund, 41, was survived by a wife and son.
Glazer took the jobs of vice president of finance and CFO at MRVC in June 1995. He joined the company in October of 1994, first serving as operations manager.
Figure 1: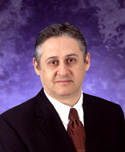 Edmund Glazer
Noam Lotan, president and CEO of MRV, issued the following statement: "This is a very sad day for MRV and for all who knew Edmund. He was a true friend and his kindness and devotion will be deeply missed. We have lost a member of our family, and his loss is overwhelming to us all. Our thoughts and prayers are with Edmund's family, friends and colleagues and all the families that have suffered personal losses during this tragedy."
We welcome your comments on this topic on our social media channels, or
[contact us directly]
with questions about the site.