Can the Gig-Ethernet market, supporting storage services, really hit $44B by 2005? UPDATED 11/2 1:00pm
Use of gigabit Ethernet in service provider networks will grow eightfold by 2005 -- with nearly 30 percent of revenues coming from 10-Gbit/s links. But Ethernet must become "carrier ready" to reach its full potential.
So says a recent report from Pioneer Consulting. The firm says use of 1- and 10-Gbit/s Ethernet in access, metropolitan, and wide-area core networks will drive sales to carriers seeking lower-cost technologies to expand their facilities and offer new data-intensive services -- including those that enable enterprises to build storage networks across multiple sites.
Figure 1: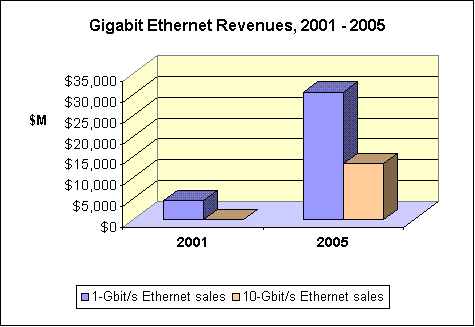 Source: Pioneer Consulting LLC
Industry sources bristle at Pioneer's projections, which estimate a gigabit Ethernet market of $44 billion by 2005. Even the most enthusiastic vendors in this market consider that figure excessive.
"The potential for metro optical Ethernet is large, but... I don't know what methodology they may have used," says Nan Chen, director of product marketing at Atrica Inc. and president of the Metro Ethernet Forum (MEF), an industry group.
We welcome your comments on this topic on our social media channels, or
[contact us directly]
with questions about the site.