CompTIA survey shows IT executives want to hire more workers this year, but will face challenges in meeting their technical hiring goals.
The job prospects for IT professionals are good this year, if a recent survey is any indication. The poll showed that many organizations want to hire more technical workers, but expect to have a hard time filling IT positions.
The survey of IT executives from 649 companies in the U.S., UK and Canada, released this week by CompTIA, showed that 54% expect they will have a tough time this year finding qualified people for technical positions. Another 14% expect the hiring environment for IT jobs will be extremely challenging.
Forty-three percent of the IT companies polled reported being understaffed. Another 36% said they're fully staffed, but want to hire more IT workers to support business growth. According to CompTIA, an IT industry trade group, one in five companies said they postponed or canceled projects because of understaffing.
General IT skills appear to be in the most demand. Organizations polled by CompTIA said they expect to hire more IT support and service workers this year. However, others skills they're looking for are application development, network engineering, as well as expertise in cloud computing, information security, and analytics.
Figure 1: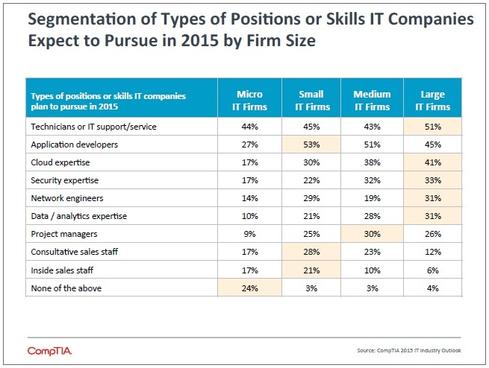 According to the U.S. Bureau of Labor Statistics, the national overall unemployment rate was 5.5% in December. By comparison, the agency said the unemployment rate for computer and mathematical jobs was 2% in November. Even if you those statistics aren't giving a full picture of the job market (the BLS doesn't include people who stop looking for work, for example), that contrast is pretty sharp.
In its report, CompTIA cited data from Burning Glass Technologies Labor Insights, which showed that U.S. businesses posted job notices for about 600,000 IT positions in the fourth quarter of last year.  That's in addition to the estimated 116,000 new IT jobs that were added in the U.S. last year, the report said.
Todd Thibodeaux, president and CEO of CompTIA, noted in a prepared statement that the "persistent shortage of workers educated, trained and certified in the latest technologies threatens to stall the pace of innovation." (Naturally, he  added that CompTIA offers IT education and certification programs to help provide these qualified workers.)
The IT employment findings are part of CompTIA's overall IT Industry Outlook 2015 report.
We welcome your comments on this topic on our social media channels, or
[contact us directly]
with questions about the site.