Looking for cloud storage for personal or business use? This guide compares four of the most popular and relevant cloud storage options available today.
The modern enterprise workplace includes an abundance of mobile devices and computers that generate a serious need for safe, accessible, and convenient storage and sharing of data. Cloud storage provides the flexibility of accessing files from anywhere in the world, with the benefit of knowing that important documents, images, videos, and other data and software are securely stored and available at all times.
Cloud storage is used both by IT professionals and simple users for saving all kinds of data and exchanging information. Large companies are experiencing a heavy increase in demand for this technology for internal documentation and nomenclature storage. While it is not difficult to check the price per gigabyte and the level of security each option offers, the trick is to find an optimal combination of these and other factors that are important to your business. It is ultimately up to IT manager to prioritize these criteria and communicate them to users. 
In this guide I will compare four of the most popular and relevant cloud storage options available today. The goal is to help set you in the right direction to identify the right solution for your business as well as your personal cloud storage goals. 
First, let's identify the main advantages and limitations of cloud services.
Advantages include the following:
Cloud services relieve customers from having to create and maintain storage infrastructures
All storage and data backup procedures are carried out without client participation
The customer pays only for the actual volume used, which eliminates the cost of buying extra hard drives
The information is stored in the cloud, accessible via the client application or the web on any supported device, anywhere in the world
Data may be shared with one click
As far as shortcomings, the main concern is security, followed by processing speed and transmission of data to the user. Connection speed problems mostly relate to the quality and capacity of the customer's Internet connection. It is also worth noting that the user could lose all of his data in of the event of a cloud service closing, if not warned of the impending shutdown ahead of time.
Now for the fun part -- benchmarking. For the purposes of this comparison, we've chosen Google Drive as an Android native storage, SkyDrive as a Windows phone receptive, and iCloud as the most convenient iOS platform storage. Dropbox is included as a progenitor and first of its kind. We have evaluated each of these solutions based on the following criteria:
Free account volume
Price in dollars per gigabyte
Cross-platform compatibility
Security aspects
Other features 
The chart below provides a summary of our findings. See the next pages for more details. 
Figure 1: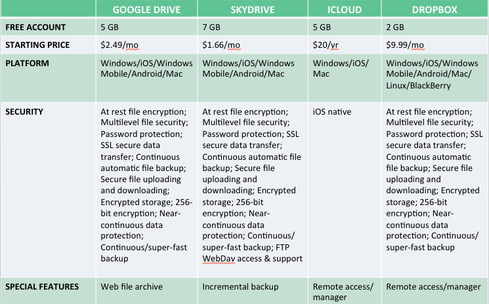 We welcome your comments on this topic on our social media channels, or
[contact us directly]
with questions about the site.