3D printing will be a disruptive force in manufacturing and IT, but with the benefits come safety risks.
To say that 3D printing is booming would be putting it lightly. At the 2014 International CES this month, an entire exhibition space was devoted to the technology: the sold-out 3D Printing TechZone. Further, countless reports, including one from IDC, project explosive growth in the 3D printing market between now and 2017.
3D printing seems capable of producing a global renaissance in manufacturing. It has the potential to transform the supply chain by allowing a rise in distributed (versus centralized) production. If product components such as car parts can be printed on site, companies will be less dependent on foreign labor and global shipping. In addition, on-demand production capabilities may reduce waste and lower inventory costs.
[Are Internet of Things devices the next big thing? See 10 Wearables To Watch At CES 2014.]
On the surface, it may not seem clear how 3D printing impacts the IT department. Topics like manufacturing process, supply chain management, and global distribution are not typically handled by the CIO. However, CIOs do have a role here, starting by engaging the C-suite in discussions about how 3D printing can improve the business.
The use of computer-aided design/manufacturing for 3D printing is guided by IT. There will be new data types, data models, and content types to evaluate and organize. Additionally, the IT department will be involved in printer buying decisions in some form based on the software platform in use. IT department expertise will also be required to connect printers to the network and allow staff to interface with them.
Figure 1: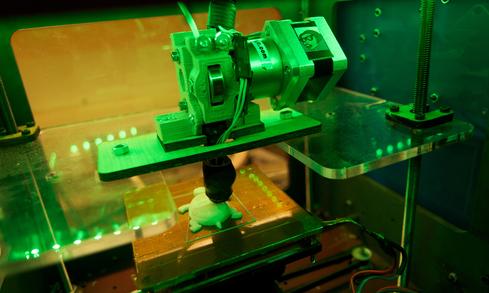 As IT groups consider ways to be involved in the 3D printing movement, they should also consider how history has proven time and again, from medical devices to cleaning products, that the growth associated with a new technology (or application of it) must be safe and sustainable to succeed.
While 3D printing has many benefits, there are also potential risks, especially for company executives looking to buy printing equipment. These should be evaluated as part of an overall approach to risk management.
High voltage and hot
First and foremost is the safety of the equipment itself. 3D printers can be relatively complex, incorporating high-voltage power supplies, multiple moving parts, and hot surfaces.
The latest product safety standards can address these potential hazards, so it's smart for buyers to ensure the equipment has been tested and certified by an established third-party certifier. This also helps satisfy any legal obligations established for electrical equipment used in the workplace, like the US OSHA workplace regulations.
Airborne emissions
Beyond these obvious safety hazards, there is growing concern with not-so-obvious ones, such as airborne emissions and indoor air quality. Further study is needed before standards can be put in place, but some printers have been shown to emit significant amounts of ultrafine particles.
In fact, the Illinois Institute of Technology conducted a study last year and found a small desktop 3D printer had emission rates similar to those of a cigarette burning indoors. In response, some manufacturers are requesting equipment testing to help customers assess workplace safety risks.
IP theft and counterfeiting
In addition to airborne emissions, companies should watch out for the potential misuse of the technology. Sharing of 3D item designs will only increase, setting the stage for black market goods. Industry growth could be slowed by costly litigation.
As more companies embrace 3D printing, battles over intellectual property could become commonplace. It may be appealing to start producing tools and components independently, but a rise in cease-and-desist orders is possible.
There are other preventative measures, such as identification and encryption software, that address counterfeiting and copyright infringement. There isn't a complete solution yet, but enterprises will need the guidance of independent safety and standard development organizations to protect them against counterfeit products.
3D printing is a breakthrough in an era already rife with breakthrough technologies. Though still in its infancy (despite being around in some form for more than 20 years), it is evolving quickly. People can create 3D printed prosthetics, food, car bodies, and more. But before you rush to purchase a printer, consider whether the proper safety measures are in place.
Thomas Burke is one of UL's principal engineers for the high-technology sector and represents UL on the technical committees responsible for the safety requirements of 3D printers.
Incidents of mobile malware are way up, researchers say, and 78% of respondents worry about lost or stolen devices. But while many teams are taking mobile security more seriously, 42% still skip scanning completely, and just 39% have MDM systems in place. Find out more in the State Of Mobile Security report (free registration required).
We welcome your comments on this topic on our social media channels, or
[contact us directly]
with questions about the site.