Year In Review: InformationWeek's 2009 Cover Stories
| | |
| --- | --- |
| | Tuesday, December 29, 2009 |
ANALYTIC REPORTS & WHITEPAPERS
FEATURED WHITEPAPERS Dashboard Upgrade for 2010

Discover how next generation Business Intelligence empowers your company and its employees to access critical information leading to a more informed and proactive workforce to take action.

Download Now 5 Essentials Of Business Recovery

his whitepaper delivers the 5 critical elements of business recovery you must have, which can help you reduce the risk of lost revenue should your system go down.

Download Now
---------------------------------------------
This issue sponsored by Quantum:
---------------------------------------------
Latest Resources from the Data Deduplication and Replication Center:
- Reduce storage and network bandwidth by 90%.
- Quantum Cuts Backup Times at U.S. Army Command
- D2D2T Backup Architectures and the Impact of Data Deduplication
- Achieved 95% reduction in Backup Volume.
Find out who did!
InformationWeek Daily Newsletter
-- Published By InformationWeek
600 Community Drive
Manhasset, NY 11030
UNSUBSCRIBE
|
SUBSCRIBE
This e-mail was sent to %%email%%
Keep Getting This Newsletter
Don't let future editions of InformationWeek Daily go missing.
Take a moment to add the newsletter's address to your anti-spam white list:
email@techwebnewsletters.com

If you're not sure how to do that, ask your administrator or ISP.
Or check your anti-spam utility's documentation.

We take your privacy very seriously. Please review our Privacy Statement.


Slideshows
Audio Interviews
Archived Audio Interviews
Jeremy Schulman, founder of Schprockits, a network automation startup operating in stealth mode, joins us to explore whether networking professionals all need to learn programming in order to remain employed.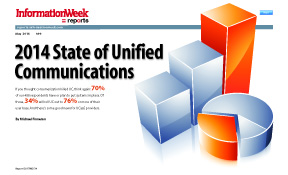 2014 State of Unified Communications
If you thought consumerization killed UC, think again: 70% of our 488 respondents have or plan to put systems in place. Of those, 34% will roll UC out to 76% or more of their user base. And there's some good news for UCaaS providers.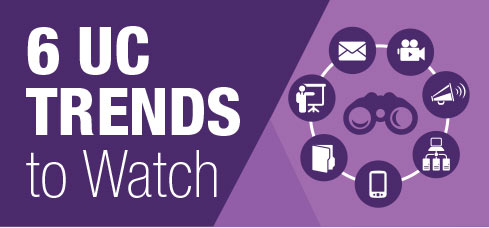 6 UC Trends to Watch
InformationWeek's 2014 Unified Communications Survey shows a revitalized market; 77% of 488 respondents have deployed UC or plan to within 24 months. Among those deploying or with plans, internal IT owns this tech: 40% will keep UC completely on premises vs. 3% going all cloud. For hybrid setups, 24% are primarily on premises vs. 17% mostly cloud.