Which IT Jobs Head Offshore | 8 Things Tablets Still Can't Do
MUST READ 8 Things Tablets Still Can't Do By Jeff Bertolucci

Have we really entered a post-PC world? The new Apple iPad and its tablet rivals still come up short on a few important measures.

RELATED • New iPad: Charging Problem Worse Than Heat Problem• New iPad: Simply Better, But Not Must-Have 270,000 More IT Jobs Headed Offshore

Offshore outsourcing will continue at brisk pace for next four years, then ease up as automation replaces offshoring as a way for companies to save money, a new study says.

5 Ways To Land A Hot Programming Job

As more and more large enterprises outsource their IT jobs, here's how you can jostle for a programming position at a killer startup.

When Hackers Want Much More Than Money

Insider attack data breaches are down in 2011, but hacktivist attacks, with motives beyond money, are up, reports Verizon 2012 Data Breach Investigations Report.

Apple TV, Google TV Reliability Worse Than Rivals

Apple and Google generate more complaints with their TV boxes than scrappy consumer electronics start-ups like Boxee and Roku do, says help site FixYa.

How To Navigate Intersection Of MDM, Cloud Email

As mobile workforces meet cloud software, IT leaders may get confused about where to go with mobile device management tools.

6 Pros And 3 Cons Of Microsoft's Cloud Strategy

Options to deploy CRM and ERP in the cloud or on-premises deserves praise, but will Microsoft move fast enough and give Apple and Android platforms sufficient support?

QUOTE OF THE DAY

"In prosperity, our friends know us; in adversity, we know our friends" -- John Churton Collins

ALSO SEE

Check out our lineup for Valley View (our live Web TV show) March 28, 4 pm PT in our SF HQ:

• Phil Libin, CEO of Evernote

• Andy Bechtelsheim, Founder of Arista (co-Founder of Sun & others)

• Parker Harris, co-Founder of SalesForce.com

• Joshua McKenty, CEO of Piston Cloud;

• James Bruce, Lead Mobile Strategist for ARM

Register to win prizes

and

watch the show live

; or if you're in the area

come on by JOIN THE CONVERSATION Posted By jzbak:

"Tablets, in my opinion, are an extension of a PC, making these points moot. People will always have some type of laptop or PC."

In reply to: "8 Things Tablets Still Can't Do"View Entire Response

|

Post Your Own Reply
DOWNLOAD INFORMATIONWEEK HEALTHCARE'S DIGITAL ISSUE

Download our exclusive digital issue and learn how the decision to postpone the ICD-10 compliance deadline won't improve readiness, senior healthcare pros say.

ALSO THIS ISSUE:Natural Language In EHRs:

Electronic health record vendors are embedding natural language processing into their products.

Mobile Medicine:

Why BYOD doesn't always work.

DOWNLOAD NOW FREE (Registration Required)

REPORTS & WHITEPAPERS
FEATURED WHITEPAPERS Planning Security Budgets: Quantify the Financial Risk of DDoS

Size, frequency and complexity of distributed denial of service (DDoS) attacks are all on the rise, making data center security and availability a top concern for most enterprises. IT security managers have the difficult task of assessing the threat landscape and allocating limited funds to minimize their exposure to DDoS attacks. This paper offers guidelines for setting security budget priorities, based on risk and consequences of an attack on your business operations.


Download Now (Registration Required) Break the "Add More Nodes" Cycle

In today's challenging and fast-paced economy, time is of the essence: organizations need answers immediately and can not wait for deep analytic queries to run in hours. This whitepaper explores why customers are incorporating IBM Netezza data warehouse appliances into their existing infrastructures and the performance and scalability benefits this approach has provided.


Download Now (Registration Required)
MOST POPULAR NEWS
RESOURCES AND EVENTS
Take Our Public Cloud Survey
InformationWeek is conducting a survey on the state of private cloud use in the enterprise. Upon completion of our survey, you will be eligible to enter a drawing to receive an 32-GB Apple iPod Touch. Additionally, you will receive a discount code good for 25% off Flex and Conference passes to Interop Las Vegas 2012, to be held at the Mandalay Bay, May 6-10.
Survey ends March 23
This e-mail was sent to

EmailAddress

InformationWeek Daily

-- Published By

InformationWeek

600 Community Drive

Manhasset, NY 11030

To update your profile, change your e-mail address, or unsubscribe,

click here.

Thoughts about this newsletter?

Give us feedback.

Keep This Newsletter Out Of Your SPAM Folder

Don't let future editions of InformationWeek Daily go missing. Take a moment to add the newsletter's address to your anti-spam white list:

email@techwebnewsletters.com

If you're not sure how to do that, ask your administrator or ISP.

Or check your anti-spam utility's documentation.

We take your privacy very seriously. Please review our

Privacy Statement.

Slideshows
Audio Interviews
Archived Audio Interviews
Jeremy Schulman, founder of Schprockits, a network automation startup operating in stealth mode, joins us to explore whether networking professionals all need to learn programming in order to remain employed.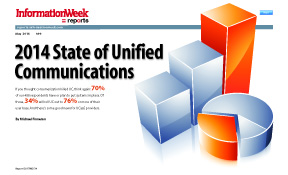 2014 State of Unified Communications
If you thought consumerization killed UC, think again: 70% of our 488 respondents have or plan to put systems in place. Of those, 34% will roll UC out to 76% or more of their user base. And there's some good news for UCaaS providers.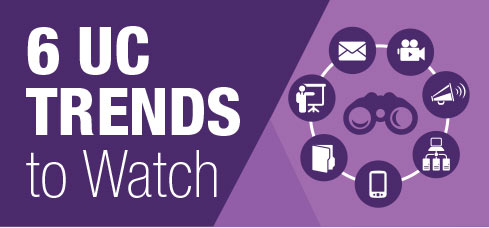 6 UC Trends to Watch
InformationWeek's 2014 Unified Communications Survey shows a revitalized market; 77% of 488 respondents have deployed UC or plan to within 24 months. Among those deploying or with plans, internal IT owns this tech: 40% will keep UC completely on premises vs. 3% going all cloud. For hybrid setups, 24% are primarily on premises vs. 17% mostly cloud.